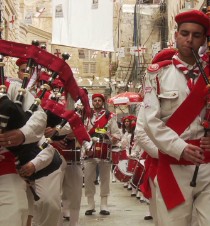 (CNN)Whether playing a wind instrument is your hobby or your job, you may want to watch out for "bagpipe lung."
The term, dubbed in a
case study
published Monday in the journal Thorax, refers to cases when molds and fungi lurking inside bagpipes potentially trigger the development of hypersensitivity pneumonitis, which is similar to pneumonia.
<
ul class="cn" cn-list-hierarchical-xs cn–idx-4 cn-zoneadcontainer">
Doctors at the University Hospital of South Manchester looked at the case of a man who died of hypersensitivity pneumonitis, a condition triggered by the immune system's response to an inhaled allergen and can progress to disabling or fatal lung disease. It is often associated with mold or bird exposure on the job, and prolonged exposure can lead to irreversible lung damage, according to the
Center for Disease Control and Prevention
. The case is the first reported death from the lung disease possibly caused by fungal exposure in bagpipes.
The only red flag
The 61-year-old man had a history of dry cough and progressive breathlessness, despite treatment, for seven years. He was first diagnosed with hypersensitivity pneumonitis in 2009, though the trigger was unknown then. His condition kept getting worse, to a point where he couldn't walk more than 20 meters — about 65 feet — had trouble breathing, and eventually ended up in the hospital in 2014.
<
div class="zn-body__read-all">
Postmortem examination revealed extensive lung damage with acute respiratory distress syndrome and tissue scarring, which are associated with chronic hypersensitivity pneumonitis.
"It really highlights the hobby interests in this case," said Dr. Jenny King, a specialist trainee in respiratory medicine at the University Hospital of South Manchester and the lead author of the case study. Since the symptoms are "treatable and reversible if caught earlier," it's important for doctors to ask thorough questions about patients' histories and hobbies, said King.
Musicians, beware
The moist interiors in wind instruments foster the growth of yeast and mold, the study suggests. Two previous cases showed the lung condition developing through fungal exposure in a
saxophone
and
trombone
. In those cases,the players began to clean their instruments with disinfectants and their symptoms improved.
King calls playing wind instruments a "risk factor" for hypersensitivity pneumonitis development, and stresses the importance of thorough and regular cleaning to minimize or eradicate molds and fungi.