Free Wi-Fi will still be available around the city but web browsing on tablets is temporarily removed after growing concerns over inappropriate behavior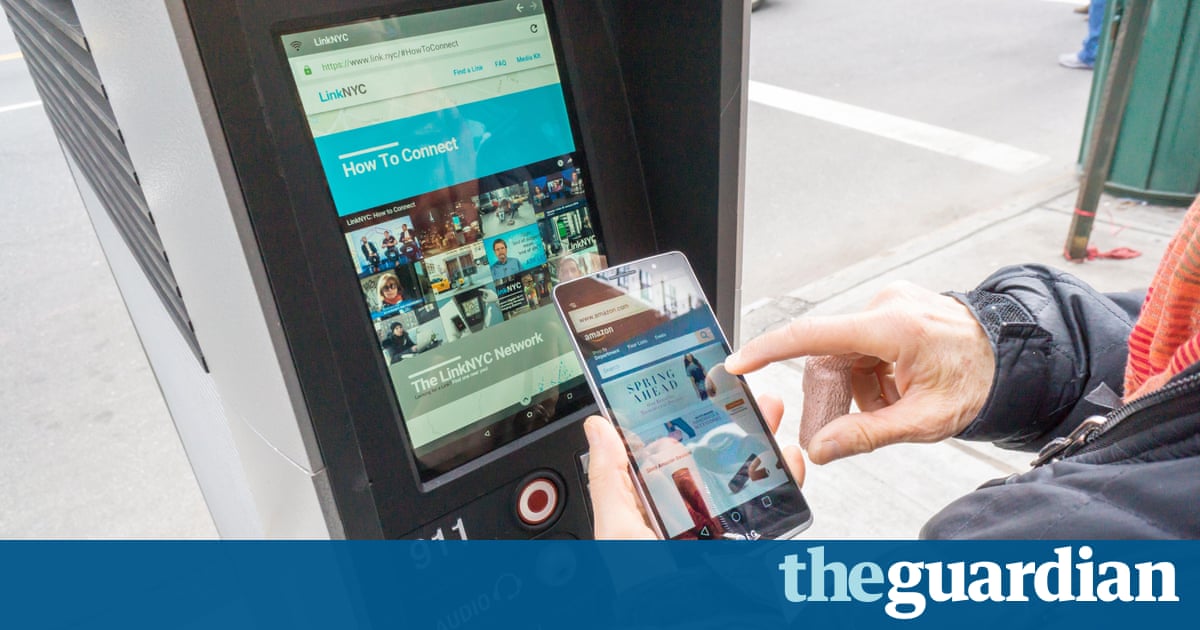 Few people lingered near the LinkNYC Wi-Fi kiosks along 8th Avenue on Thursday morning. One made a phone call near Times Square, others charged their phones. Two men stood in front of another one at a machine near Penn Station, charging their phones and utilizing the free Wi-Fi.
The tall metal towers began replacing city phone booths with free Wi-Fi, phone calls and info services like 311, New York Citys non-emergency services directory, or Google maps earlier this year. Until yesterday, they also had internet-enabled tablets. However, after reports of misuse and growing public concern, it was announced that web browsing on the tablets would be temporarily removed.
While the free Wi-Fi would still be available, those who used the tablets were dismayed.
In three boroughs, 400 LinkNYC kiosks have been installed by CityBridge a consortium of experts in technology, media, user experience and connectivity, according to their site with Sidewalk Labs, a subsidiary of Googles parent company Alphabet, as an investor. The initiative, announced in 2014, was imagined to address a digital divide in the city by bringing internet to those who dont have it. LinkNYC brings us a couple steps closer to our goal of leveling the playing field and providing every New Yorker with access to the most important tool of the 21st century, Mayor Bill de Blasio said earlier this year.
In June, the New York Post reported that some people were using the tablets to watch pornography in public, sometimes openly masturbating. Earlier this week, a man had been arrested for masturbating at a kiosk.
A man who sold bus tour tickets near a tower told the Guardian that he often witnessed clusters of people using the tablets for three or four hours, playing loud music.
People are congregating around these Links to the point where theyre bringing furniture and building little encampments clustered around them, Barbara A Blair, president of the Garment District Alliance, told the New York Times. Its created this really unfortunate and actually deplorable condition.
Homeless people were reported as some of the most avid users of the kiosks since they were installed earlier this year, charging their phones if they have them and watching music videos on tablets, according to the Associated Press.
The kiosks were never intended for anyones extended, personal use and we want to ensure that Links are accessible and a welcome addition to New York City neighborhoods, LinkNYC wrote in a statement on Wednesday.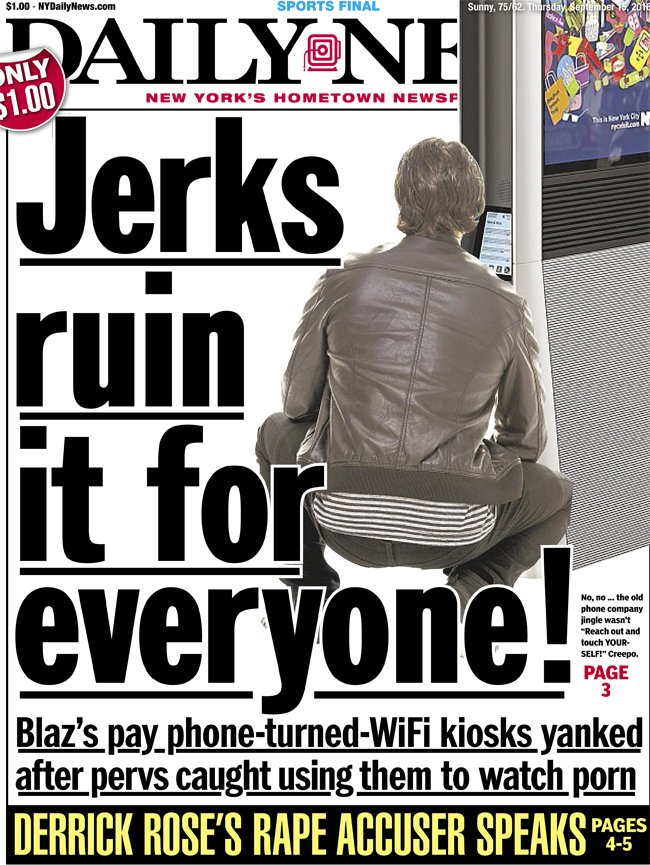 After the tablets internet was shut down, many New Yorkers wondered how the city didnt see this coming. City officials had voiced their own concerns.
The Bronx borough president, Rubn Daz Jr, called for reforms to the kiosks a day after they were installed in the Bronx this month, according to DNAInfo New York, suggesting time limits for use of the tablets. Councilman Corey Johnson, whose district encompasses Greenwich Village, Chelsea and part of Midtown, wrote a letter to LinkNYC and the city about the kiosks, according to the Times. These kiosks are often monopolized by individuals creating personal spaces for themselves, engaging in activities that include playing loud explicit music, consuming drugs and alcohol, and the viewing of pornography, Johnson wrote.
In July, a representative from Link NYC told CNN Money that while the tablets use a content monitoring system like those used in many businesses, schools and libraries around the country, the system still cant catch everything. Link NYC is now looking for solutions, like time limits, to prevent misuse.
John and Mel, the two men who were using the machine near Penn Station on Thursday, were surprised when they noticed they couldnt go online on the tablets any more. John, who has been living on New York City streets for a few weeks, said he had gotten up and checked the other towers nearby to see if it was maybe just a glitch.
Mel, who was homeless for five years but recently got an apartment, tried to reset the machine to see if the internet would come back.
Others they knew passed by and told them that the internet on the tablets was no more. One man warned that they shouldnt stay near the machine long, lest they get arrested by police thinking they were watching pornography. John, a veteran who said he came to New York from Michigan after meeting a woman online, was leaning up against the kiosk with a cardboard sign and cup.
The men on 8th Avenue all said they didnt use the service to watch explicit videos, but rather to charge their smartphones. John used it to listen to music or find a soup kitchen for something to eat. Mel said he thought the 311 directory was useful. He worried for homeless men who had used the tablets internet to apply for jobs and now couldnt get back in touch with their prospective employer. Why put something like this in and then just take it out? Mel said. Thats like teasing somebody.
On Twitter, others pointed out that they saw people using the kiosks to watch Katt Williams videos or playing chess.
In their report, <a href="http://www.independent.co.uk/news/world/americas/porn-youtube-new-york-wifi-hotspot-stations-homeless-commandeer-a7206046.html" data-link-name="in" body link" class="u-underline">the Independent found a few men who watched pornography on the tablets, but also some who watched the presidential debates or cooking videos. I was really amazed by it, a man named Edward said of the service. He said a police officer told him about the internet tablets, so he could browse the web instead of walking around at night. He was worried that the city would start charging for it or take the service away.
The men who spoke with John and Mel seemed to expect the service wouldnt last long either. Its a very helpful, one said, but of course bad people messed it up for everyone.
Read more: https://www.theguardian.com/technology/2016/sep/15/wi-fi-kiosks-changes-new-york-linknyc