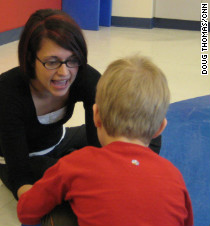 (CNN)Here are some things to know about autism.
April 2 is World Autism Day.
From the Centers for Disease Control and Prevention:
Autism or autism spectrum disorder (ASD) incorporates a group of neurodevelopmental disorders causing impaired communication skills and social skills. ASDs generally start before three years of age and last a lifetime, but early intervention plays a role in treatment and progress.
<
ul class="cn" cn-list-hierarchical-xs cn–idx-4 cn-zoneadcontainer">
From the American Psychiatric Association, Diagnostic and Statistical Manual (DSM-5):
"
Autism spectrum disorder:
The criteria will incorporate several diagnoses from DSM-IV including autistic disorder, Asperger's disorder, childhood disintegrative disorder, and pervasive developmental disorder (not otherwise specified), into the diagnosis of autism spectrum disorder for DSM-5 to help more accurately and consistently diagnose children with autism."
Boys are five times more likely than girls to have ASDs.
ASDs can be found amongst all races, ethnicities, and socioeconomic groups.
Read more: http://www.cnn.com/2013/10/14/health/autism-fast-facts/index.html