It is not known if the blast is related to three package bombs that have killed two and injured two in the Texas capital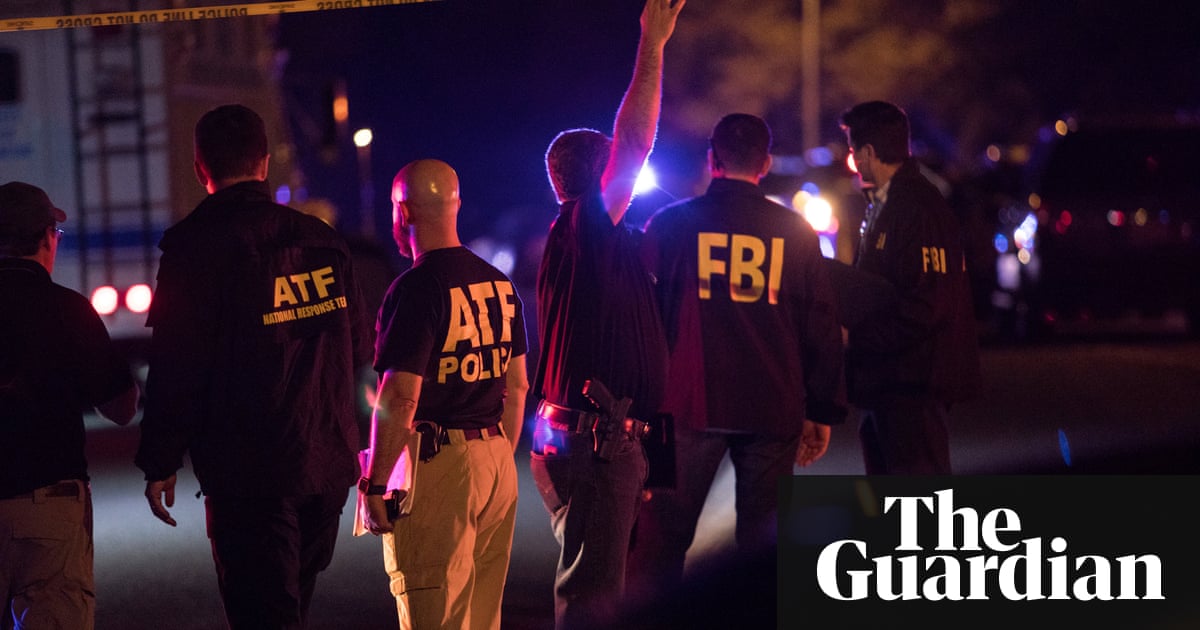 Austins police chief said on Monday the latest bombing to hit the city was detonated by a tripwire, showing a different level of skill.
Chief Brian Manley told ABC both of the men injured in Sunday nights blast were white, unlike the victims in the citys <a href="https://www.theguardian.com/us-news/2018/mar/12/austin-bombs-texas-attack-link-previous-bombing-victims" data-link-name="in" body link" class="u-underline">three previous package bombs this month, who were black or Hispanic. The two men injured were riding or pushing bicycles when the explosives detonated, Manley said.
The Sunday night explosion happened in the south-western residential neighborhood of Travis Country. The three previous bombings happened in residential neighborhoods east of Interstate 35, which divides the city.
Authorities warned Travis Country residents to remain indoors until 10am as police scoured the area for anything suspicious.
The latest explosion came hours after authorities raised the reward by $50,000 for information leading to the arrest of whoever was responsible for the first three explosions. It now totals $115,000.
Sundays blast occurred around 8.30pm. Manley said then it was caused by a device and warned the public not to touch any unexpected packages left at their homes.
He urged people within half a mile to stay in their homes, given the darkness and size of the area that we want to go in and check.
We want to put out the message that weve been putting out and that is, not only do not touch any packages or anything that looks like a package, do not even go near it at this time, Manley said. We have not had an opportunity to look at this blast site to really determine what has happened.
Manley also said authorities were working to clear a suspicious backpack found in the area that was part of a separate report.
It is important right now for anyone in the neighborhood behind us to remain inside and give us time to work through this, he said, adding that any witnesses should call 911 and report what they saw.
The two men who were hurt were in their 20s. Police said they were hospitalized with injuries that were not life-threatening.
The first explosion in Austin recently was a package bomb that exploded at a north-east Austin home on 2 March, killing a 39-year-old man. Two more package bombs exploded farther south on 12 March, killing a 17-year-old boy, wounding his mother and injuring a 75-year-old woman.
Police said the blasts were likely related and involved packages that had not been mailed or delivered by private carrier but left overnight on doorsteps. Manley originally suggested they could have been hate crimes since all the victims were black or Hispanic, but now says investigators are not ruling out any motive.
Manley last week urged residents receiving unexpected packages to call authorities without touching or opening them, and police responded to hundreds of calls about suspicious packages but didnt find anything dangerous.
On Sunday, police blocked entrances to the neighborhood where the latest blast occurred and put up yellow tape about half a mile from the home where it happened. People milled around just outside the tape. Some reported hearing loud booms but couldnt provide details. FBI agents arrived to conduct interviews.
Sunday was the final day of the South By Southwest music festival, which draws hundreds of thousands to Austin every March. It is also the end of spring break for many area school districts, meaning families who were out of town in recent days are returning to a city increasingly on edge.
The explosions occurred far from the main South By Southwest activities, though a downtown concert by hip-hop band The Roots was canceled on Saturday night after a bomb threat. Authorities later arrested a 26-year-old man, and the incident did not appear to be related to any previous explosions.
Read more: https://www.theguardian.com/us-news/2018/mar/19/austin-texas-injured-fourth-explosion-hit-city-month