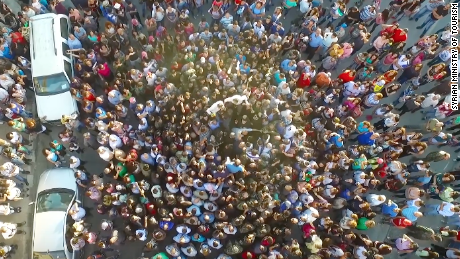 (CNN)War-torn Syria may not top many vacation wish lists, but the country's tourism ministry is hoping to change that — with a little help from "Game of Thrones."
Bashar al-Assad's regime released a promotional video Friday with panoramic views of government-held parts of Aleppo, accompanied by an acoustic version of the theme music to the popular HBO television series.
<
ul class="cn" cn-list-hierarchical-xs cn–idx-4 cn-zoneadcontainer">
Showcased in the video are aerial shots of wide green boulevards and swimming pools. It's a far cry from the rebel-held eastern part of the city, where 250,000 people live with daily airstrikes, according to the UN, and where whole blocks of neighborhoods have been destroyed.
Although a constant stream of devastating pictures from Aleppo — including a
striking image of a bloodied boy
— have captured the world's attention as reminders of the horrors of war, the Assad regime wants to promote the city as a destination for tourists.
Some may see evoking "Game of Thrones" as an odd choice for a Syria tourism campaign, considering the show's fictional world of Westeros is a violent place engaged in its own bloody civil war.
But this is only the latest video in a broader tourism campaign by the Syrian government, which last month published idyllic shots of the Mediterranean resort city of Tartus.
Another video shows a Christian festival in
Maaloula
. The mountain town, one of the few places in the world where Aramaic, the language of Jesus Christ, is still spoken, was taken by al-Nusra Front, al Qaeda-linked rebel group, in 2013. Regime forces eventually pushed the Islamist group out in April 2014.
Syria's state-sponsored news agency last week mocked the perception of Aleppo as one of the "world's most dangerous" cities, tweeting a video of locals enjoying the city's "thriving nightlife."
Read more: http://www.cnn.com/2016/10/02/world/syria-aleppo-tourism-game-of-thrones/index.html