The indie rockers rolled out their last record, Everything Now, with a satirical ad campaign. The result? Mass confusion and bad reviews. As they hit UK arenas, frontman Win Butler is defiant: Lets see if we can break through the noise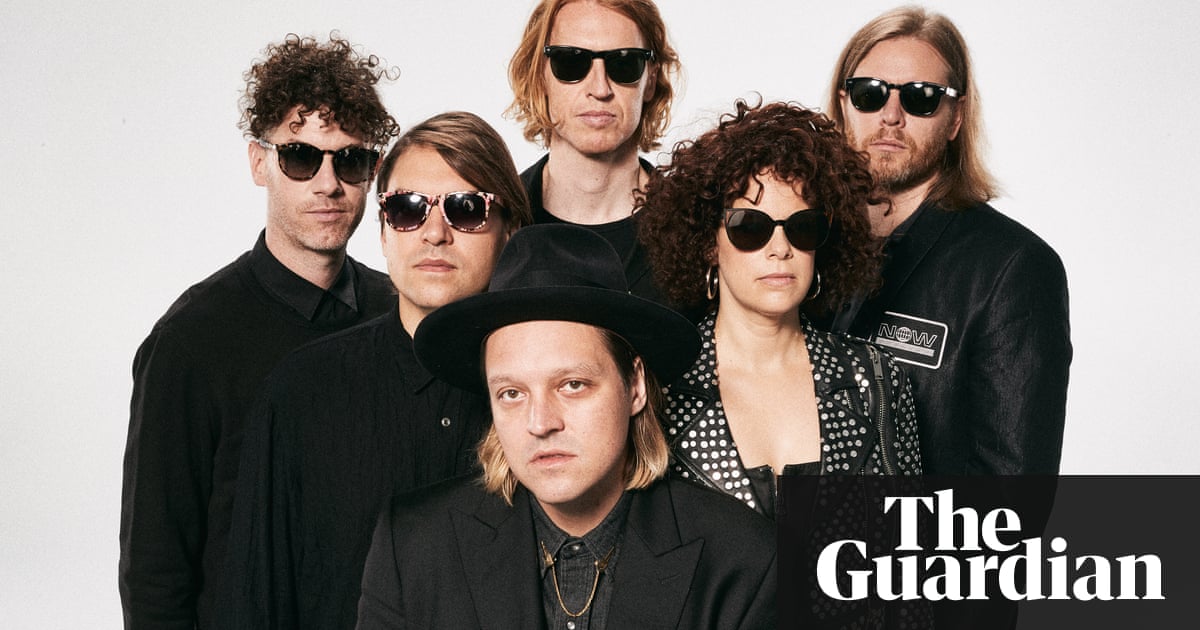 In a corner booth, Win Butler sits beaming in a broad-brimmed black hat, at his elbow a large martini glass garnished with three fat green olives. It is Thursday evening in Manhattans theatre district and Butler has chosen a steakhouse once recommended to him by his late grandfather, the guitarist and swing bandleader Alvino Rey. When he began travelling the world as a teenager, Butler says, Rey would furnish him with tips. The first time I went to London he sent me to this place that had been around for 100 years, to have the lamb chops.
Tonight, Butler is fresh from a rehearsal for his band Arcade Fires appearance on Saturday Night Live. The day has seen several run-throughs of their single Put Your Money on Me, as well as a skit that references the bands Canadian roots (though Butler and his brother Will, are from Texas). It will be their fifth performance on the show, including the time they performed as Mick Jaggers backing band, and Butler describes the series appeal. Monty Python and SNL were punk bands, he says, his voice quick and high and giddy. They were part of that movement, but they just got on TV.
It is surprising to find Butler in such open spirits. Last July, Arcade Fire released their fifth studio album, Everything Now, and while it debuted at No 1 on the US and UK charts their third album to do so and has helped sell lots of tickets for their upcoming arena tour, the critical response was more muted. Some were unconvinced by the songs. Others took issue with the albums promotional campaign, an elaborate construct in which the band had become contractually bound to the Everything Now Corp, and were now obliged to promote marshmallows and fizzy drinks as well as their music. Simultaneously, they posted a glut of fake news stories about themselves online, from pretend album reviews to parodic lifestyle blogs.
Both album and campaign nodded to the times, but they also suggested disdain for the media; I expected to find Butler defensive and perhaps a little sullen over dinner with a journalist. Instead, he is forthright and enlivened, and close to defiant. Over oysters, crab meat and steak tartare, he discusses an array of subjects including satire, gun control and Angolan dance music, as well as the response to Everything Now. Part of me hopes that this record is our stinker, our horrible record, he says, eyes drawn sharp and wide. Because if it is, then we may be the greatest band of all time. Its pretty funny to me, he adds, laughing. If thats the worst thing we can possibly do then Im at peace.
He seems genuinely concerned that people did not get the joke of the promotional campaign, co-created by really clever people from the New Yorker and spoof news site the Onion. Had any of it simply appeared on the latter, he argues, its humour would not have been questioned. That was what was interesting about it, he says. It seems that by changing the masthead to something real, it changes the context of what the joke is.
Perhaps, in the era of Donald Trump and fake news, the joke becomes a little more hackneyed, a little less funny. Some of the critical response to the themes that we were talking about was: We know this already! he concedes. Youre worried about corporations? Boring! But I look at the moment were in. Weve got a reality star in charge of the United States, and everything that we love and care about is filtered through this incredible corporate structure. He gestures at my iPhone sitting on the table. There is something distorted, he says, in the suggestion that a corporation such as Apple could be so widely regarded as benign. Like: Hey, were not Exxon, were the good guys! Weve all just accepted it.