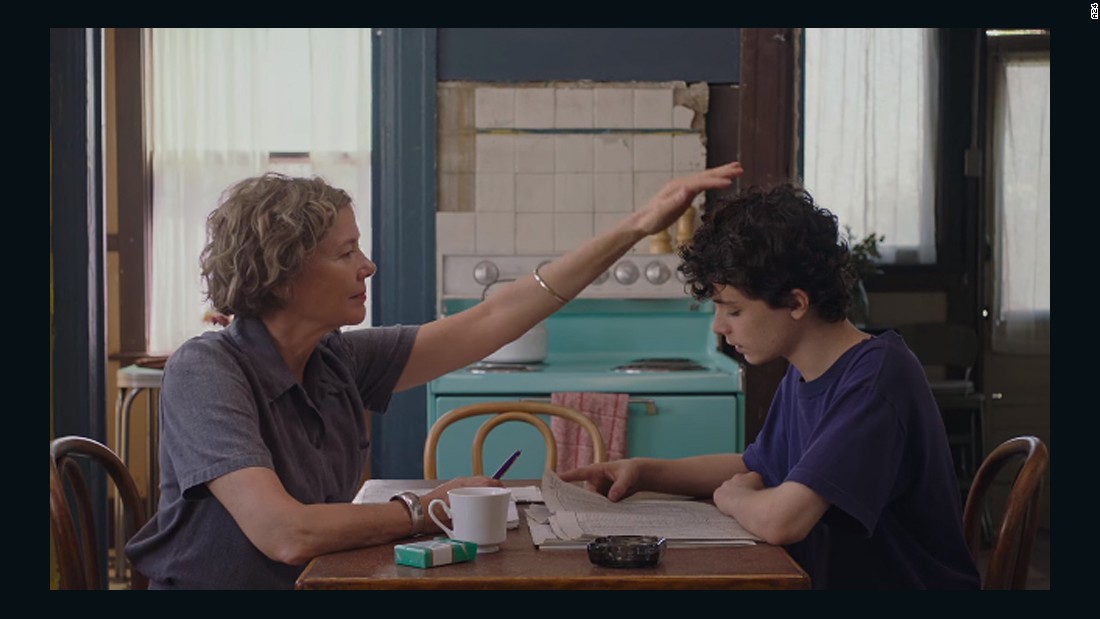 (CNN)A coming-of-age story with a clear autobiographical feel, "20th Century Women" tackles the other half of writer-director Mike Mills' family tree, which started with "Beginners." As such, it's a deeply personal work with an almost European flavor, most notable for its anchoring performance by Annette Bening.
Set in 1979, in the slightly blissed-out confines of Santa Barbara, Cal. (the period's music not surprisingly plays a key supporting role), the movie features Lucas Jade Zumann as 15-year-old Jamie, being raised by his eccentric single mom, Dorothea (Bening).
"I know him less every day," laments Dorothea, who is in her mid-50s, and feels compelled to enlist those within her orbit to assist in Jamie's upbringing. It's a perplexingly disjointed group, consisting of a 20-something artist (Greta Gerwig), who rents a room from Dorothea; and a 17-year-old neighbor (Elle Fanning), an emotionally fragile girl who takes refuge from the world by regularly sneaking into Jamie's room, mostly ignoring the fact that the younger boy is hopelessly smitten with her.
<
ul class="cn" cn-list-hierarchical-xs cn–idx-4 cn-zoneadcontainer">
Billy Crudup also co-stars as Dorothea's ever-present handyman, the kind of aimless guy you occasionally ran across in those days, who found his way to the beach and basically never left.
Mills' story periodically drops in tidbits of biographical background about each character, which adds to its sense of nostalgic authenticity. Yet just as "Beginners" focused on his father coming out late in life as a gay man, "Women" deals with the complicated relationship between the teenager and his mother, who, having weathered the '60s, recognizes the cultural forces that are helping drive a wedge between them but is lost as to how to address them.
A recipient of Golden Globe nominations for the movie and Bening, "20th Century Women" is funny and sweet, but also terribly slight. There are universal aspects in the regrets that surround this mother-son relationship — in the longing people sometimes harbor with the benefit of age and hindsight about such familial ties — but the movie will probably resonate most among those who experienced adolescence in '70s and '80s, able to identify with the TV they watch and the punk bands to which Jamie listens.
Granted, the notion of this sort of extended, unorthodox family could easily have a sitcom flavor — hey, it's the wacky handyman! — that "20th Century Women" studiously avoids; instead, Mills embraces an understated sensibility that gives everyone — particularly Bening — more human, fleshed-out roles.
In that respect, the filmmaker has adhered to the age-old maxim that counsels artists to write what they know, painting a vivid portrait of these quirky, flawed characters. Yet if "20th Century Women" is as wistful and pleasant as an ocean breeze, its message also dissipates about as quickly as the sand between your toes.
"20th Century Women" opens on December 28. It's rated R.
Read more: http://www.cnn.com/2016/12/23/entertainment/20th-century-women-review/index.html