Conservationists are calling on the US to raise the protection level for leopards, severely curbing hunters ability to import body parts as trophies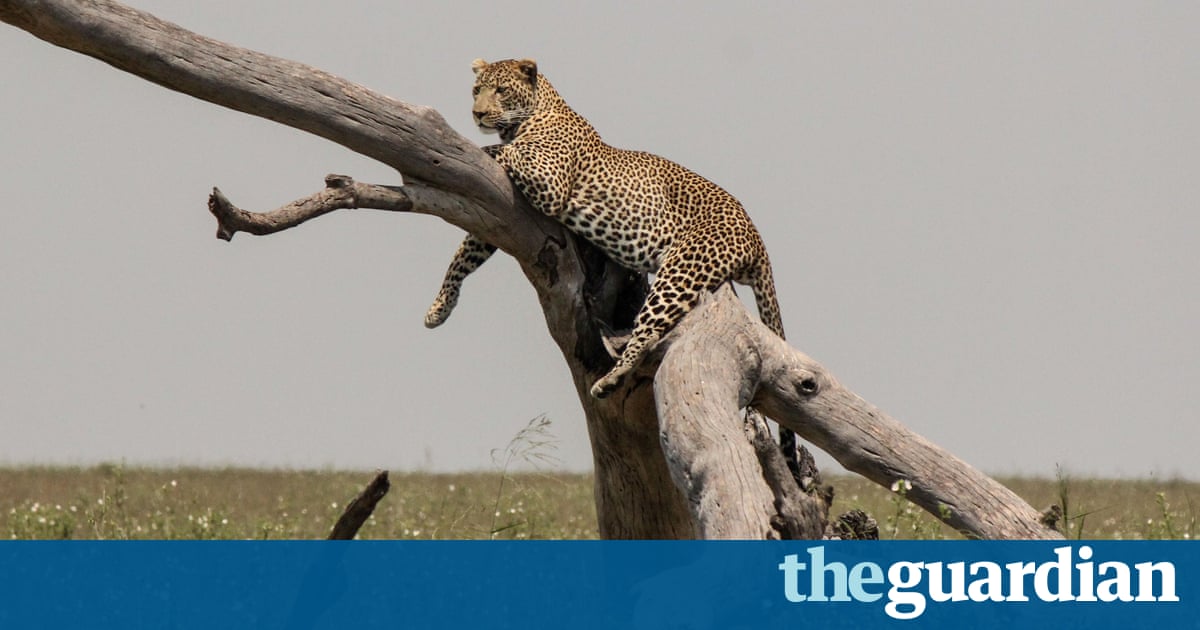 Conservationists have demanded a crackdown on the import to the US of leopards killed by American hunters, in an attempt to replicate the protections introduced in the wake of the furore caused by the death of famed lion Cecil.
A coalition of animal welfare groups have petitioned the US Fish & Wildlife Service (FWS) to classify all leopards as endangered, the Guardian can reveal. This would severely curtail the ability of American hunters to bring home trophies, such as leopard skulls, paws or skins, from hunting trips to Africa.
America is a leading collector of leopard parts. According to a Humane Society analysis of data from the Convention on International Trade in Endangered Species, US trophy hunters imported parts of 5,575 leopards between 2005 and 2014.
It is unclear how many leopards remain across Africa and Asia but the International Union for Conservation of Nature (IUCN) has warned the species has declined substantially due to habitat loss, paucity of prey and targeted poaching for sham medicinal products in south-east Asia and China that can generate $3,000 for a leopard carcass.
The IUCN states that poorly managed trophy hunting adds to pressure on local leopard populations. In 2016, South Africa stopped the hunting of leopards, over concerns that untold damage was being wrought.
Currently, the FWS classifies leopards in northern Africa as endangered and sub-Saharan animals south of Gabon and Kenya as threatened. This distinction, drawn up in 1982 following lobbying by hunters, means that much less scrutiny is placed upon leopard imports from the southern half of Africa.
Buoyed by the success in getting lions classed as endangered last year following the controversial demise of Cecil, a famous Zimbabwean lion who was shot by a dentist from Minnesota, conservation groups want the FWS to extend endangered species protection to all leopards.
The petition states that leopards range is in alarming and precipitous decline, including in southern Africa where leopards are currently listed as threatened. It adds that the survival of the species is being risked by Americans engaging in unsustainable trophy hunting and international trade of African leopards.
The official request, lodged with the FWS on Monday, includes testimony from leading primatologist Jane Goodall, who said that her lengthy study of wildlife in Africa showed that leopards play an essential role in the ecosystem.
Trophy hunters target large males in their prime those who carry the genes likely to result in the perpetuation of strength and magnificence, splendid individuals whose decapitated heads disfigure the walls of countless wealthy homes, Goodall wrote.
Trophy hunters routinely boast about the animals they have killed, posting photographs of their smiling faces hovering over the lifeless bodies of their conquests, even though the prey (which may be drugged or baited) is often shot with a high powered rifle from a safe distance.
Hunting trips taken by Americans result in around 126,000 animal trophies being imported each year, with targeted species including black bears, wildebeest, geese and impala. The big five beasts lions, elephants, rhinos, buffalo and leopards are highly prized by hunters, with about 32,500 trophy imports of these animals between 2005 and 2014, according to a Humane Society calculation of FWS data. About seven in 10 of all hunting trophies are sent to the US.
Hunting groups such as Safari Club International, which auctions overseas hunting permits, argue that hunting brings vital income to communities in Africa, as well as encouraging landowners to conserve species for the enjoyment of rifle-wielding tourists.
But environmentalists and many scientists disagree with the idea that hunting aids conservation, pointing out that the social order and future viability of species is disrupted when the largest animals are targeted.
The entire concept of trophy hunting, putting aside ethical issues, is that the off-take of animals is sustainable, said Anna Frostic, a lawyer at the Humane Society who lodged the petition along with the Center for Biological Diversity and International Fund for Animal Welfare.
To do that you need to know what the population is and the reality is no one knows what the leopard population is. Polling shows that regardless of species, its clear that the American public doesnt support killing in order to hang a trinket on your wall. Leopards are one of the big five animals, the concept of killing them is abhorrent to the public.
Under the Obama administration, regulations have been tightened on lion and elephant hunting. In a show of force, six tons of confiscated ivory were crushed in Denver in November 2013. This was followed by a near total ban on the export, import or interstate trade of ivory products.
Last year, Republican presidential nominee Donald Trump defended the hunting practiced by his sons, Donald Jr and Eric. The brothers went on a hunting safari in 2012 and had their photo taken with a dead leopard. Donald Jr posed in a separate picture holding a <a draggable="true" href="http://www.nydailynews.com/news/politics/pics-rump-adult-sons-hunting-game-africa-resurface-article-1.2308107″ data-link-name="in" body link" class="u-underline">severed elephants tail.
The FWS did not immediately return a request for comment.
This article was amended on 25 July 2016 to clarify that not all lions are on the endangered list. Panthera leo, found in central Africa and Asia, is listed as endangered while Panthera leo ssp melanochaita, found in eastern and southern Africa, is listed as threatened
Read more: https://www.theguardian.com/environment/2016/jul/25/leopards-animal-welfare-groups-endangered-us