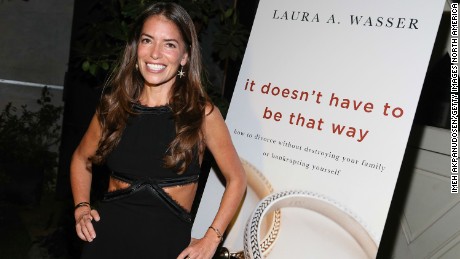 (CNN)Divorce in Hollywood is almost as common as sunshine and paparazzi.
And everyone knows that if you want to come out on top, you hire the best of the best.
<
ul class="cn" cn-list-hierarchical-xs cn–idx-4 cn-zoneadcontainer">
Enter attorney Laura Wasser.
Wasser is known as the go-to-divorce lawyer in Tinseltown, and fresh off of representing Johnny Depp in his very conscious uncoupling from Amber Heard, she is now representing Angelina Jolie in her split from Brad Pitt.
In honor of the dozen years Jolie and Pitt have been lined in the headlines (they became the subject of speculation in 2004 and publicly confirmed their relationship in 2005), here are 11 other things to know about Wasser beyond her helping Depp get unhitched:
It's in her genes
Wasser is the daughter of well-respected family attorney Dennis Wasser. The father and daughter practice law together at their Los Angeles firm Wasser, Cooperman & Carter.
Even her name speaks to it
Wasser's father named her "Laura Allison Wasser" so her initials would spell "LAW."
Her client list
The list of clients Wasser has represented reads like a who's who of Hollywood.
In addition to Depp and Jolie, Wasser has represented Britney Spears, Kim Kardashian, Ryan Reynolds, Heidi Klum, Nick Lachey and many other celebrities.
A well earned nickname
Early on, the tabloids dubbed her the "Disso Queen" — as in dissolution of marriage.
A published author
Her book, "It Doesn't Have to Be That Way: How to Divorce Without Destroying Your Family or Bankrupting Yourself," was published in 2013.
She has personal experience with divorce
The high profile attorney's first case hit close to home.
She represented herself during her divorce in 1993 from a man she met while a student at Loyola Law School.
"I don't know that human beings were meant to mate for life or be monogamous," she is quoted. "But, for me, the aspect of marriage that is troubling is that it's a contract that is governed by the state, and I don't want the state to have control over my personal affairs."
Wasser is a mom
She has two sons from two relationships, but did not marry their fathers.
She believes in pre-nups
The litigator says she's happy to negotiate prenuptial agreements,
but told Vanity Fair
she doesn't force them on her clients.
"If somebody comes to me — the client, their business manager, their entertainment attorney, or one of their parents — and says, 'I think at this point, [he/she] really needs a pre-nup,' then I will write the pre-nup," she said.
Understanding the romance
"A lot of Hollywood is fantasy and when that idea of walking down the aisle in a beautiful dress or suit is so lovely, and you've got unlimited funds, why wouldn't you want to do it time and time again," she said. "They think: 'So, the first one didn't work out and the second one didn't work out, but this one really is the one!' I'm being glib, but if there's one thing I've learned, it's that people love to get married."
Don't look for a reality show anytime soon
Wasser has said she's been approached but has absolutely no desire to become a reality TV star.
Wasser is still famous anyway
The lawyer makes regular TV appearances and has graced the pages of several fashion magazines
including Elle
, which said she made "the tough business of divorce look polished, professional, and downright sexy."
Read more: http://www.cnn.com/2016/09/20/entertainment/laura-wasser-angelina-jolie-divorce/index.html