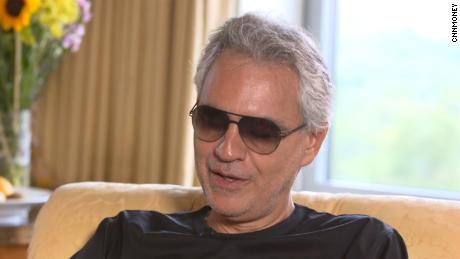 (CNN)Andrea Bocelli hopes he's doing his part to "improve the world."
Right now, when he's not busy with his day job as an acclaimed opera singer,Bocelli is focusing his efforts on Haiti.
<
ul class="cn" cn-list-hierarchical-xs cn–idx-4 cn-zoneadcontainer">
"There comes a time in life where you realize that you're very lucky, and you also realize that it is beautiful and pleasant to share such luck with others," Bocelli told CNN.
Bocelli, started the Andrea Bocelli Foundation [ABF], in 2011. One of the foundation's projects is the "Break The Barriers" initiative, which works to help fight poverty in developing countries, like Haiti.
ABF worked with The Fondation Saint Luc, a Haitian non-profit Catholic-oriented organization to foundthe
"Voices of Haiti" choir
in January. The choir consists of 60 children, ages 9 to 15, picked from 30 local schools.
"Music is definitely a very valid tool to favor the spiritual development of each and every one of us," Bocelli told CNN. "There's a famous quote, a definition by Leibniz, the philosopher, which says that music is a hidden mathematical exercise of the soul."
Although he has only visited Haiti once, it didn't take long for him to realize the severe needs of the country. "It was such a strong experience," he said. "I was able to see first hand all those things that people are aware of through TV and the papers, but it's one thing to have a notion of something, and it's a completely different thing to feel it with your own hands."
The choir recently flew to New York and performed at the United Nations and Lincoln Center.
"[All] of us must do their best to improve the world around them," Bocelli said. "We're just a drop, and what you can do as an individual is to do your best to improve your drop of the ocean all around you to make this ocean as clean as it can be. This is something that each and every one of us, in their own little world, must do."
Bocelli is separately gearing up for his latest North American tour, which kicks off December 3, in Las Vegas.
"Music is a beautiful thing," he said, "and as Dostoyevsky used to say, 'Beauty will save the world,' therefore it is important to have music as part of our world."
Correction: This article originally stated that Bocelli's North American tour began December 15 in New York; in fact, it begins December 3 in Las Vegas.
Read more: http://www.cnn.com/2016/09/28/entertainment/andrea-bocelli-haiti-foundation-music/index.html