<
div id="body-content"> Another year, another nine nominations for Beyonc. This years Grammys show touched on everything we expected it to: the subtle Trump jokes, the Adele vs. Beyonc debate, and Americas attempt to think of what else James Corden does aside from Carpool Karaoke. In case you missed the biggest night in music (and the one time a year rappers decide to bring out their religious sides), weve recapped the nights epic moments and the tragically bad ones. Heres the lineup:
The Best
1. Beyonc Giving No Fucks By Not Memorizing A Speech
<
p style="text-align:;" center;">
Beys whole Multi-Cultural / Spiritual/ The Last Supper/ Mothers Day Came Early themed performance was a bit confusing and very overwhelming, but we cant judge the queen. She literally read her acceptance speech off of a golden pamphlet and gave no fucks that youre supposed to memorize a speech. Do you think Queen Bey has time to run lines before the show?
<
h2 style="text-align:;" center;">2. The Fake Tweets Line
James Corden had a pretty minimal amount of solid jokes throughout the night, but we have to admit we were a fan of his fake tweets line when he started getting hate tweets from randos. Were usually not that amused by all the political undertones in every punchline, but this one was subtle enough to be clever.
3. Chance The Rapper Winning Everything
TBH we werent that into Chances whole in the name of the Lord theme going on with his acceptance speeches, but were pretty happy about his triple win. Aside from the fact that "No Problem" is literally the pregame song of 2017, we were ready for a break from Drake and Rihanna winning every rap and hip hop award. We approve of Chance being artist of the year.
4. Carrie Underwoods Dress
We honestly werent blown away by many of the fashion choices this year, but Carrie Underwood looked unreal in her hot red Elie Madi gown. Were obsessed with the edgy cutout and bold color, and her makeup and new highlights looked unreal on top of it all. Her performance was alright too.
5. Brunos Performance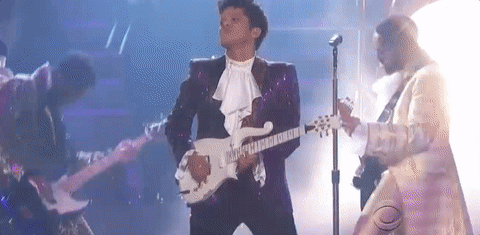 Weve gone back and forth on our opinion on Bruno Mars. I mean, on one hand, I could throw my phone out of the car every time "Uptown Funk You Up" comes on the radio, but on the other hand, his songs are ideal for those blurry Ubers on the way to the club when youre still convinced youre in for a good night. We were hoping for "24K Magic," but his Thats What I Like performance actually made us forget for a quick second that hes literally 5'3″.
The Worst:
1. Twenty One Pilots Dropping Their Pants
I just wish I were in the room to shut down that idea the second one of them said, If we ever win a Grammy, we should receive it just like this. Like, Twenty One Pilots creeped me out already before this situation, so the second they dropped their pants, it just confirmed the creepiness. I mean, I get that their lesson was some anyone can do this bullshit, but did we need to see your scrawny hairy legs to get the message?
2. No One Knowing The "Sweet Caroline" Lyrics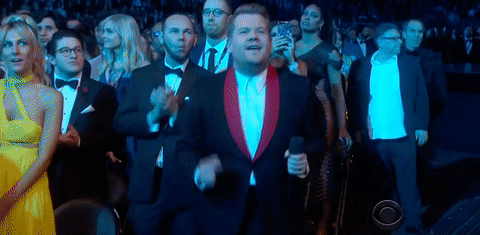 That Carpool Karaoke joke actually had potential considering it literally is the one funny thing James Corden does. Why couldnt anyone sing "Sweet Caroline"? I mean, I get that its an old song, but ask any kid at a bar mitzvah and they could belt that shit out from memory, so why couldn't a bunch of professional singers do it??
3. Adeles Tribute Fuck-Up
Adele, youre the queen and youre dramatic as fuck, but did you really need to restart the whole song that no one wanted to listen to in the first place? I guess its kinda respectable that you wanted to get the performance perfect in George Michaels memory, but like, next time just sing better the first time around. Weve seen you do it before.
4. James Cordens Parents Bit
Were not gonna deny that James Corden had some funny lines throughout the show, but the whole parents cheating on each other bit was cringeworthy AF. It was bad enough to see Heidi Klum on your dads lap. We didnt need to suffer through your moms bad acting skills with Nick Jonas. This idea probably sounded better on paper.
<
h2 style="text-align:;" center;">5. Metallicas Mic Fiasco
<
p style="text-align:;" center;">
Lady Gaga obviously killed it at the Super Bowl last week, so it didnt really bother us that she sang with Metallica, but once James Hetfields mic was clearly broken, we just wished she was up their solo. Were not into heavy metal or anything, but we felt kinda bad for him watching him desperately try to share Gagas mic. I mean, its just sad that Adele got her do-over but he didnt. Moral of the story? Sucks to be anyone thats not Adele.
<
h3 style="text-align:;" center;">