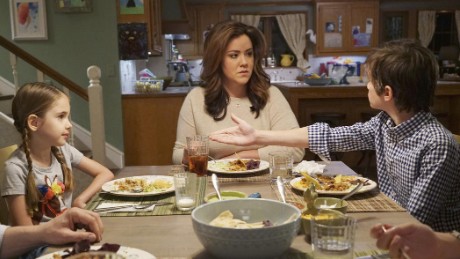 (CNN)Peer pressure is a popular theme in sitcom versions of motherhood, as women living by the mantra that you can't be too rich or too thin surround more down-to-earth sorts just striving to get by.
The latest strain of that anxiety, in what feels like a sign of the times, can be found in "American Housewife," an ABC comedy that focuses on a woman who grouses about living among contemporaries with "big houses and tiny butts," who wear workout attire and slurp "stupid green drinks."
Katy Mixon, who co-starred in "Mike & Molly," plays Katie — an ordinary, slightly overweight woman surrounded by stick-thin Stepford Wives in the town of Westport, Connecticut.
<
ul class="cn" cn-list-hierarchical-xs cn–idx-4 cn-zoneadcontainer">
The premiere — scheduled behind the network's established heartland sitcom "The Middle" — finds Katie fretting that a neighbor, known quaintly as "Fat Pam," is going to move, a turn of events that, much to Katie's chagrin, will leave her "the second fattest housewife" in town.
As we've seen recently, even Miss Universes aren't immune to worrying about weight, which is a popular American pastime. That puts Katie — who narrates her innermost thoughts and fears throughout — on relatable ground, even when she's privately expressing qualms about her kids. (Her son is obsessed with making money, which feels like a sort-of throwback to "Family Ties.")
The other defining element of "American Housewife" is Katie's nagging concern about money and status, which echoes the recent Bravo series "Odd Mom Out" — where the Manhattan mom gripes about being "a charity case" between Lexington and 5th — and CBS' former Julie Louis-Dreyfus sitcom "The New Adventures of Old Christine," which coined the phrase "meanie moms" to describe the title character's tormentors.
Notably, network sitcoms in particular generally come at these story lines from a middle-class or upper-middle-class perspective. An exception would be CBS' "Mom," where the characters face serious economic troubles, exacerbated by their battles with addiction.
Nothing about "American Housewife" is particularly novel, including Katie's goofy husband ("The Drew Carey Show's" Diedrich Bader), who reads on the toilet and loves her just the way she is. Still, Mixon is quite good, and the premiere incorporates a clever twist that teaches Katie there are potentially worse things than being reminded that you're not as skinny as the neighbors.
Ultimately, this show and the others cited reflect a common refrain about the pressures placed even on women with ostensibly happy lives — namely, that having a lot doesn't eradicate doubts about still not having enough.
"American Housewife" premieres October 11 at 8:30 p.m. on ABC.
Read more: http://www.cnn.com/2016/10/10/entertainment/american-housewife-review/index.html