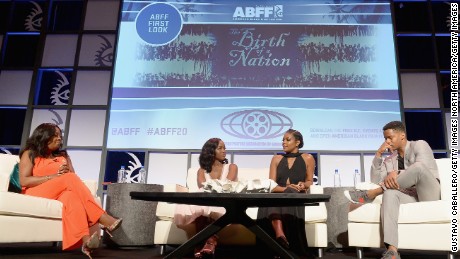 Miami (CNN)The 20th annual American Black Film Festival wrapped in Miami Sunday, generating plenty of buzz around the forthcoming film "The Birth of a Nation" and much discussion about the lack of diversity in Hollywood.
Known as ABFF, the event has become the biggest gathering of African-American TV and film insiders and fans and includes panels, workshops and plenty of celebrity appearances.
<
ul class="cn" cn-list-hierarchical-xs cn–idx-4 cn-zoneadcontainer">
This year ABFF partnered with the Motion Picture Association of America, the trade organization which includes six major studios: Walt Disney Studios Motion Pictures; Paramount Pictures Corporation; Sony Pictures Entertainment Inc.; Twentieth Century Fox Film Corporation; Universal City Studios LLC; and Warner Bros. Entertainment Inc.
Here are a few other things we learned about new projects coming from some veterans in the industry:
'Five Heartbeats' documentary
Filmmaker and actor Robert Townsend told CNN he "had a ball" making his 1991 film "The Five Heartbeats," which centered around the career of a male R & B singing group.
Now the beloved film is the focus of a documentary Townsend is working on, he said.
"People come up to me all the time and say that's their favorite film and they quote lines," Townsend said. "Then they go 'Will there be a sequel?' Well, I couldn't do a sequel but I said the journey behind how I made the movie is almost as exciting as the movie."
Townsend has been working on the doc for the past year and a half and hopes to have it finished in the fall.
'Girlfriends' movie?
Speaking of beloved projects that folks want a sequel to, fans have been clamoring for years for either a reboot of the UPN sitcom "Girlfriends" or a film.
The TV series about a tight group of African-American girlfriends, starring Tracee Ellis Ross, Golden Brooks, Persia White and Jill Marie Jones, was canceled in 2008, much to the dismay of its loyal viewers.
"Girlfriends" creator Mara Brock Akil has moved on to create other projects, including the very successful BET series "Being Mary Jane" and was at ABFF to discuss new projects she's working on with her husband, Salim Akil.
She said she's aware of the desire to find out what happened with the characters from "Girlfriends, as she too wanted closure.
"It's hard to let go if characters are out to sea," Akil said. "I understand what the audience wants because there's a part of me that wants it as well."
Akil said she thinks the time for reviving "Girlfriends" may have passed, but she may consider a show like it, rather than a revisit of the series.
"What I am proud about is that because 'Girlfriends' existed, what we are experiencing today, 'Girlfriends' helped lay the foundation," she said. "I love 'Empire' and I know we can embrace [the 'Empire' character] Cookie because we first embraced Tasha [the minor 'Girlfriends' character who went on to appear in the spinoff 'The Game']. There is a journey to this and we are all a part of a bigger picture and not just the individual picture."
Ghost has the 'Power'
Executive producer Curtis "50 Cent" Jackson and show creator Courtney Kemp have a hit on their hands with the Starz drama "Power."
Omari Hardwick stars as James "Ghost" St. Patrick, a crime figure battling to go straight as a nightclub owner.
The series heads into season 3 in July and Hardwick told CNN during the film festival that the season was "very uncomfortable" for him.
"For me, [Ghost] is probably the most dynamic guy we've seen on TV in ages," Hardwick said. "I would include James Gandolfini's Tony Soprano, Bryan Cranston's Walter White, Michael K. Williams's brilliant Omar from 'The Wire,' and Idris Elba's Stringer Bell. Ghost is so complex."
Hardwick said he's loved playing a character who is trying so hard to break away from his past as a drug dealer and become a better person. That transformation from "Ghost" to "James/Jamie" has been a challenge, he said.
"This season he became more James, more Jamie," Hardwick said. "I physically and spiritually and mentally have been wearing this guy as a guy claiming to be Jamie, but not yet Jamie. Now that I have to actually be James, this is kind of different. The complexity and originality of the character was why I originally liked it and it shows up this season."
Lack of diversity isn't just a U.S. issue
#OscarsSoWhite has become shorthand for the often limited opportunities for people of color in Hollywood, but it's a problem that apparently crosses the pond.
Jacob Anderson and Nathalie Emmanuelle are black British actors who star as Grey Worm and Missandei respectively on "Game of Thrones" and said it's also a hot-button issue in the United Kingdom.
The pair appeared as part of an HBO panel at the festival and talked to the audience about some of the challenges faced by actors of color in the UK. In January, "Luther" star Idris Elba complained about the lack of diversity in the British TV industry.
Anderson said at ABFF that the phrase being bandied about in the UK is "We're going to go ethnic."
"We're not any better [about diversity] in the UK as Idris has pointed out," Anderson said. "[Post #OscarsSoWhite] I feel like there is a bit of a weird atmosphere at the moment, a bit of resentment. But [going ethnic] is terminology that needs to change."
Read more: http://www.cnn.com/2016/06/19/entertainment/american-black-film-festival-wrap/index.html