Presidents gather for fundraiser for those affected by hurricanes that struck Texas, Florida, Puerto Rico and US Virgin Islands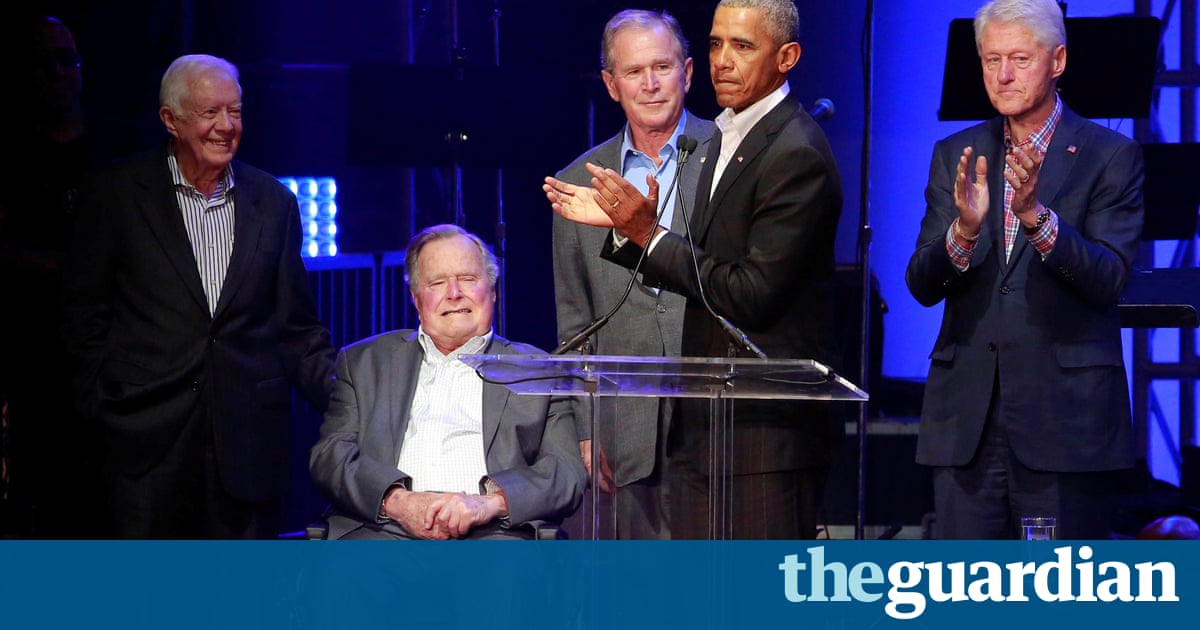 The five living former US presidents made a rare appearance together on stage on Saturday night at a fundraiser for those affected by recent hurricanes that struck Texas, Florida, Puerto Rico and the US Virgin Islands.
It was a show of unity and compassion after a week in which Barack Obama and George W Bush broke an unwritten rule to deliver implicit criticism of the present occupant of the White House.
While neither mentioned Donald Trump by name, Bush gave a speech in New York expressing concern that bigotry seems emboldened in a climate of cruel rhetoric and nativism, while Obama referred to the politics of division and folks who are deliberately trying to make folks angry at Democratic campaign stops in New Jersey and Virginia.
Politics was set aside for the sold-out concert at Texas A&M Universitys Reed Arena, however, as Bush, Obama, Jimmy Carter, Bill Clinton and George HW Bush were given a rapturous welcome by the audience. Both Bushes live in Texas and the 41st presidents library and museum is on the A&M campus.
The event, Deep From The Heart: The One America Appeal, featured a host of country and gospel music stars. It was launched last month after Hurricane Harvey battered Texas and expanded when Hurricane Irma hit Florida and Hurricane Maria devastated parts of the Caribbean, together causing several hundred deaths and billions of dollars in damage.
Trump, whose response to relief efforts in Puerto Rico has come under fire, has frequently denigrated Obama and earlier this year baselessly claimed his predecessor in the Oval Office ordered Trump Tower to be wiretapped before the 2016 election. Last Monday he intimated Obama and other former presidents treated the families of dead military members with a lack of respect.
However, he recorded a two-minute video message for the appeal which was rather more collegial in tone. Now, as we begin to rebuild, some of Americas finest public servants are spearheading the One America Appeal. Through this effort, all five living former presidents are playing a tremendous role in helping our fellow citizens recover, he said.
[First Lady] Melania and I want to express our deep gratitude for your tremendous assistance. This wonderful effort reminds us that we truly are <a href="http://abcnews.go.com/US/trump-video-message-presidents-gather-hurricane-relief-concert/story?id=50632768″ data-link-name="in" body link" class="u-underline">one nation, under God, all unified by our values and our devotion to one another.
Read more: https://www.theguardian.com/us-news/2017/oct/22/all-five-living-former-us-presidents-make-rare-appearance-together