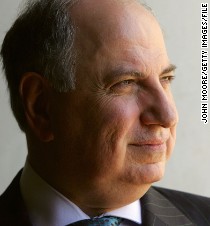 (CNN)Here's a look at the life of Ahmed Chalabi, co-founder and former leader of the Iraqi National Congress (INC).
Personal:
Birth date: October 30, 1944
Death date: November 3, 2015
<
ul class="cn" cn-list-hierarchical-xs cn–idx-4 cn-zoneadcontainer">
Birth place:
Baghdad,
Iraq
Birth name: Ahmed Abdul Hadi Chalabi
Father: Abdul Hadi Chalabi, former president of the Iraqi Senate
Mother: Bibi Chalabi
Marriage: Leila (Osseiran) Chalabi (1971-2015, his death)
Children: Hadi, Hashim, Mariam and Tamara
Education: Massachusetts Institute of Technology, B.S. in mathematics, 1965; University of Chicago, Ph.D. in mathematics, 1969
Religion: Shiite Muslim
Other Facts:
Abdul Hadi Chalabi, Chalabi's father, was one of Iraq's wealthiest men and a president of the Iraqi Senate before the family went into exile in the 1950s.
Timeline:
July 1958 – Chalabi and his family flee Iraq after King Faisal is killed in a military coup led by Abdul Karim Kassem.
1970-1977 –
Teaches mathematics at the American University of Beirut in
Lebanon
.
1977 – Chalabi opens the Petra Bank in Amman, Jordan.
1990 – Petra Bank collapses.
1992 – Is sentenced in absentia by a Jordanian court to 22 years in prison with hard labor for bank fraud.
June 1992 – Establishes the Iraqi National Congress (INC), an umbrella organization for Iraqi opposition groups, which convenes for the first time in Vienna.
1992-1996 –
Spends four years in Iraqi
Kurdistan
, the US and British-patrolled no-fly zone in northern Iraq, trying to start an uprising against
Saddam Hussein
. The CIA reportedly funds the INC with more than $100 million.
June 1996 – A CIA-organized coup against Saddam Hussein's regime fails.
1996-1998 – Lives in Washington, DC and lobbies the US government to overthrow Hussein.
July 2003 – After Saddam Hussein's regime falls, Chalabi is appointed to the 25-member Iraqi Governing Council, and is one of nine who serves as president on a rotating basis.
August 2003 – After a car bomb kills 17 at the Jordanian embassy in Baghdad, the Jordanian government accuses Chalabi of being involved.
May 20, 2004 – US soldiers raid Chalabi's home and offices.
They are investigating members of the INC for offenses including fraud and kidnapping. US officials accuse Chalabi of passing information about military operations in Iraq to
Iran
. Chalabi denies these charges.
August 8, 2004 – Arrest warrants are issued in Iraq for Chalabi and his nephew Salem. Ahmed Chalabi has been charged with counterfeiting currency while his nephew has been charged with murder. An Iraqi court later throws out the charges.
April 28, 2005-May 2005 – Appointed acting minister of oil when the Iraqi parliament approves a partial cabinet that does not include a nomination for oil minister.
May 2005 – King Abdullah of Jordan agrees to pardon Chalabi for his 1992 conviction of bank fraud.
May 2005-May 2006 – Deputy prime minister.
December 30, 2005-January 2006 – Is named oil minister, replacing Ibrahim Bahr Uloom.
February 2007 – Chalabi obtains a position as an intermediary between Baghdad residents and Iraqi and US security forces; his role is to assist residents in obtaining reimbursement for damage to houses and automobiles that occurs as a result of security sweeps.
May 2008 – Is removed from his position as head of utility restoration in Baghdad.
August 2009 – US military intelligence links Chalabi to Shiite terrorists responsible for a 2007 attack on seven Marines.
March 2010 – The Justice and Accountability Commission, headed by Chalabi, bars as many as 500 candidates from running in the parliamentary elections due to their previous ties to Saddam Hussein's Baath Party.
March 2010 – Wins a seat in Iraq's parliament.
June 7, 2011 – Chalabi calls on the United States to fully withdraw from Iraq.
Read more: http://www.cnn.com/2013/08/05/world/meast/ahmed-chalabi-fast-facts/index.html