<figure class="media-landscape" has-caption full-width lead">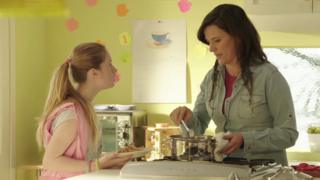 Image copyright Unilever

Image caption Last year Unilever pledged to move away from gender stereotypes in its ads
There should be stronger regulation of advertisements which show men failing at simple household tasks and women left to clean up, says the body that oversees UK advertising.
The Advertising Standards Authority has reviewed its approach to ads that feature stereotypical gender roles.
It concluded that ads that mock people for not conforming to gender types or reinforce gender roles had "costs for individuals, the economy and society".
As a result new rules will be drawn up.
The Advertising Standards Authority (ASA) said it had decided to conduct a review following the public's reaction to the "beach body ready" advertising campaign in 2015 which prompted a wave of complaints for showing a bikini clad model in an advertisement for a slimming product, which critics said was socially irresponsible.
<div id="bbccom_mpu_1_2_3″ class="bbccom_slot" mpu-ad" aria-hidden="true">