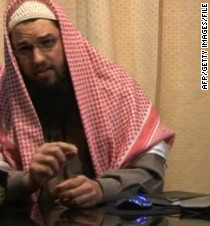 (CNN)Here's a look at the life of deceased al Qaeda translator and spokesman Adam Gadahn.
Personal:
Birth date: September 1, 1978
Death date: January 19, 2015
<
ul class="cn" cn-list-hierarchical-xs cn–idx-4 cn-zoneadcontainer">
Birth place: Born in Oregon, and grew up in Winchester, California
Birth name: Adam Yahiye Gadahn
Father: Philip Gadahn, goat farmer and carpenter
Mother: Jennifer Gadahn, goat farmer
Marriage: Married to a Muslim woman from Afghanistan
Children: Reportedly had at least one child
Education: Home schooled until age 17
Religion: Muslim
Other Facts:
Was also known as Azzam the American, Adam Pearlman or Abu Suhayb Al-Amriki.
Adam's parents changed their last name from Pearlman to Gadahn right after they were married.
Grew up in rural California on a farm. His family lived a very rustic lifestyle, and he reportedly did not watch TV or use a computer as a child.
At eighteen, he moved in with his paternal grandparents who were secular Jews.
Timeline:
1995 –
Converts to
Islam
at the Islamic Society of Orange County, California. Haitham Bundakji, chairman of the mosque, is his witness.
May 1997 – Is banned from the mosque after striking Bundakji. Gadahn later pleads guilty to misdemeanor assault and battery and is sentenced to two days in jail and forty hours of community service.
1998 –
Leaves the United States and moves to
Pakistan
.
2002 – His father claims this is the last time Gadahn contacted them in California.
May 26, 2004 – The FBI releases Gadahn's name and says he is part of an al Qaeda cell that is planning attacks meant to disrupt the 2004 presidential election.
October 27, 2004 –
A videotape is released in which a man in disguise praises
Osama bin Laden
and threatens imminent attacks against the United States. Haitham Bundakji identifies Gadahn as the man.
September 11, 2005 – A videotape is released in which a disguised man believed to be Gadahn threatens attacks against Los Angeles and Melbourne.
September 11, 2006 –
Gadahn releases a video
on the fifth anniversary of 9/11, "All the brothers who took part in the raids on America were dedicated, strong-willed, highly motivated individuals with a burning concern for Islam and Muslims."
October 11, 2006 – Adam Gadahn is charged with treason and providing material support to terrorists. There is a reward for up to $1 million for information leading to his capture.
May 29, 2007-
Gadahn appears in a
new al Qaeda videotape
warning the United States to end involvement in the affairs of Muslim countries. Speaking in English, Gadahn says, "Your failure to heed our demands … means that you and your people will … experience things which will make you forget all about the horrors of September 11th, Afghanistan and
Iraq
and
Virginia Tech
…"
January 6, 2008 –
Gadahn appears in a new video. Speaking mostly in English, he renounces his citizenship, criticizes
President George W. Bush
's trip to the Middle East and tears up his US passport.
October 4, 2008 –
He releases a new video focusing on Pakistan, with references to the US economic meltdown and fighting in
Kashmir
. "It's time for you to put aside tribal, ethnic and territorial differences and petty worldly disputes not just for now but forever and unite to restore the glories of your forefathers and hasten, Allah willing, the defeat of the Zionist-crusader enemy and the establishment of the Islamic state, the Ummah, the so eagerly anticipated."
June 13, 2009 – A new videotape of Gadahn is released. Speaking in Arabic, he acknowledges his Jewish ancestry.
June 20, 2010 –
Gadahn appears in a new videotape, mocking
US President Barack Obama
, calling him "a devious, evasive and serpentine American president with a Muslim name…"
September 29, 2010 – Gadahn releases a new video criticizing the governments of Pakistan and Afghanistan, saying they only serve the interests of the United States.
October 23, 2010 – Along with others, appears in a video referencing Umar Farouk AbdulMutallab, also known as the "underwear bomber."
June 2, 2011 – Gadahn releases a new video, urging followers to attack targets in the United States. He says, "America is absolutely awash with easily obtainable firearms. You can go down to a gun show at the local convention center and come away with a fully automatic assault rifle without a background check and most likely without having to show an identification card. So what are you waiting for?"
September 18, 2012 –
Gadahn appears in
Ayman Al-Zawahiri's
9/11 anniversary message video
, "Truth has Come and Falsehood has Perished," condemning statements by President Barack Obama that the United States is not at war with Islam. "America is crystal clear about its opposition to Islam as a political system, Islam as a ruling system … and the essence of Islam. So, how can America say that it is not at war with Islam?"
September 20, 2012 – Gadahn releases a new video, "Advice and Support to Our Rebel Brothers Against Injustice," in support of uprisings throughout the Middle East and North Africa.
August 19, 2013 –
Gadahn releases a new video praising the death of
Libya's US Ambassador Chris Stevens
and urges wealthy Muslims to offer militants rewards so they can kill others.
Read more: http://www.cnn.com/2013/03/23/us/adam-gadahn-fast-facts/index.html