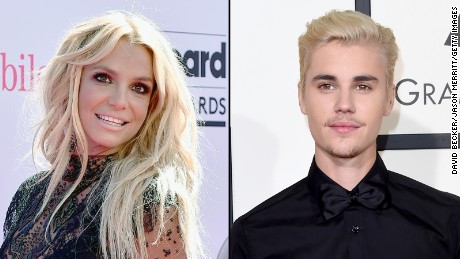 (CNN)Don't look for a song from Britney Spears and Justin Bieber anytime soon.
Spears has shot down chatter that she is collaborating with the Biebs.
In an interview with BBC Radio 1
on Wednesday, the singer was asked if there was any truth to rumors they were working on a track together
<
ul class="cn" cn-list-hierarchical-xs cn–idx-4 cn-zoneadcontainer">
"No, there's no truth to that at all," Spears said.
Instead talk turned to Bieber's nude photos — which Spears called "insane"– and her meeting him years ago.
"He walks into my hotel room and he was like a kid," Spears said. "Literally, he looked like he was 13 years old, but he was 16. And I was like, 'Who is this kid in my hotel?'"
She said Bieber was unassuming and nice in person — unlike some of the "divas" she has encountered in the industry.
Spears also said she'd perform in a Super Bowl Halftime Show again (she sang with Aerosmith in 2001), but would need a little help from her friends.
"I don't think you would ever do the Super Bowl alone," said Spears who is about to release her ninth album titled "Glory." "That would be kind of scary."
Also scary can be being famous.
Spears said she is actually pretty private and is sometimes "in denial that I'm really famous."
"It's too much, I think, for someone to reach that kind of magnitude to really understand it," she said. " I feel like when you're younger, it's easier. But when you're older, it's one of those things that's kind of like 'Huh? What is this? This is kind of crazy.'"
Read more: http://www.cnn.com/2016/08/25/entertainment/britney-spears-justin-bieber/index.html