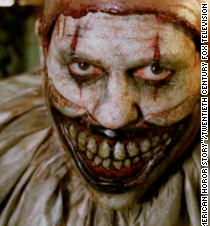 (CNN)The clowns are here, and they won't go away. What started as a few amusing headlines in August has now ballooned into a full-blown clown epidemic, and no one would blame you if you were a bit curious and perhaps even a little concerned.
After all, while there's been plenty of social media foolishness and hoaxes across the country, there have also been a few more sinister incidents, all of them seemingly feeding off each other.
<
ul class="cn" cn-list-hierarchical-xs cn–idx-4 cn-zoneadcontainer">
When should you worry, and when should you dismiss it as a harmless trend? Here's the long and short of the "threat," and what school officials and law enforcement are doing to keep everyone safe and sane.
Have people actually gotten hurt?
There have been some serious incidents, but most threats and rumors have remained unsubstantiated.
Report any suspicious activity to authorities, including social media activity.
Listen to messages from police and school officials.
DO NOT DRESS UP LIKE A CLOWN.
DO NOT LET YOUR CHILDREN DRESS UP LIKE CLOWNS.
Do not joke or post about clowns in a dishonest way that may waste valuable police and school resources.
Police departments in clown-affected areas have made two things clear: They're vigilant, but not worried, and they really want people to stop pulling stupid clown stunts.
"We have tried to avoid falling into the trap of putting extra police protection or presence in places where we've had these," he said. "Our main message is don't believe the hype and don't be afraid of the clowns."
"Residents may be extra sensitive to 'evil or creepy' clown attacks leading up to Halloween," their Facebook post read. "Police are warning would-be clown pranksters and other characters: Carrying anything that is perceived to be a weapon in public, into businesses or in and around schools exposes you to criminal charges and/or potential danger if it is confused for a real weapon."
In other words, while actual clown threats appear to be few and far between, the panic they cause and the copycat crimes they inspire could pose a real problem.
How should I handle my kids?
Reassure them that they're safe, and be vigilant but critical of the hype.
Dr. David Anderegg
, a psychologist and author of "Worried All the Time: Overparenting in an Age of Anxiety and How to Stop It," says parents should be measured in their approach and really consider how much of this clown fad is real, and how much of it is unnecessary hype.
"It's so hard to figure out how much of this is people passing stuff around on Facebook, or how much of it is copycat stuff," he says. "Parents should continue to do what parents do, which is be vigilant, but not hypervigilant. Let kids go out and about. There's no need to be overly suspicious, but certainly continue to teach kids not to accept things from strangers or be alone with strangers."
If your child is scared, Anderegg suggests avoiding any type of popular media that has to do with clowns. (Sorry, kids. No Halloween showings of "It.") He also says a simple reassurance that you will keep them safe can go a long way.
On the flips side, Anderegg also says parents shouldn't be worried about kids being drawn to any creepy clown figures.
"Children know a lot about context," he says. "And if a child sees a clown walking down a street or in a public park or something, they're not going to be excited like they would be if they were at a circus or a celebration. They're going to think, like everyone else, 'What the heck is that clown doing here?'"
Finally, if you're worried about your kids and clowns, consider this important question: If someone really wanted to hurt your child, or even commit a serious crime, would they do it wearing a highly visible, very obvious clown suit?
Anderegg says no. "If someone really wanted to hurt children, dressing up like a clown would not be the way to do it, because they're calling attention to themselves," he says. "People who want to hurt children are insidious. A real child abuser wouldn't wear a clown suit. A college kid who just wants to scare people would."
"Someone who's actually out to hurt children, they're much more interested in blending in, not standing out."
Read more: http://www.cnn.com/2016/10/06/health/clown-scare-parents-guide-trnd/index.html