Sabrina Siddiqui relays her experience as a pool reporter, part of a small group shadowing Clinton and her top aides, in the final 24 hours of her bid to make history as the first female US president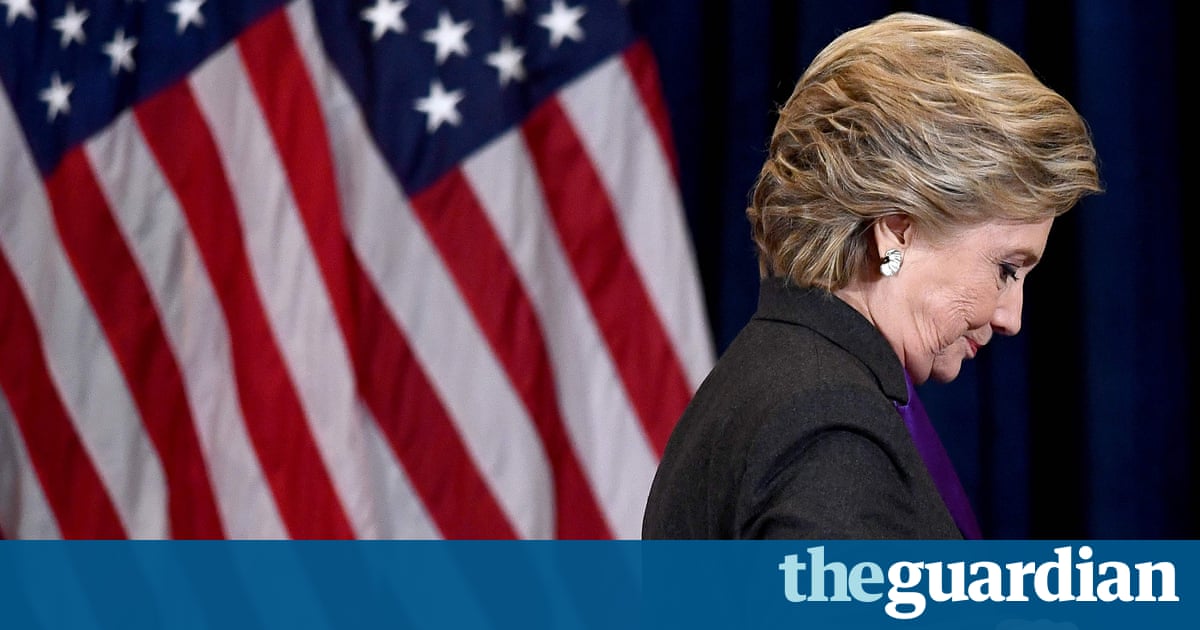 Hillary Clinton had barely slept in 24 hours when she arrived at her polling station in upstate New York to cast her ballot, on the crisp autumn day that would eventually determine that she would not, after all, break that highest, hardest glass ceiling.
The final day of her 18-month campaign to be the USs first female president had seen her blitz through four cities in three battleground states, and culminated in a bespectacled Clinton bounding off her plane to her campaign anthem, Fight Song by Rachel Platten, before a couple of hundred supporters who braved the 3.30am wind chill at the Westchester County airport.
About four hours later, at least 100 well-wishers assembled at the Douglas G Griffin elementary school in Clintons adopted hometown of Chappaqua to watch her cast her vote.
It is the most humbling feeling, she told CNN when asked how it felt to vote for herself, because I know how much responsibility goes with this and so many people are counting on the outcome of this election, what it means for our country, and I will do the very best I can if Im fortunate enough to win today.
To have a woman on the ballot as the nominee of a major party was a first in Americas 240-year history and Clinton said she had thought about her mother when she cast her ballot.
Her language at the polling station echoed the cautiously optimistic tone that had dominated the final two weeks of her campaign. Shifting from her routine stump speech, the Democratic nominee had begun to look beyond the 8 November election, the first time many reporters had witnessed her allowing herself to do that in 18 months of covering her campaign.
She spoke of a certainty that voters would choose an open, inclusive, big-hearted America, and told voters in Manchester, New Hampshire: We will have some work to do to bring about healing and reconciliation after this election.
The country would need to come together, Clinton said repeatedly, whether standing before several dozen parishioners at a black church in Philadelphia in the crucial swing state of Pennsylvania or before thousands of students gathered under the fall foliage at an outdoor park in that states other major city, Pittsburgh.
There is fear and anger in our country, Clinton said in Pittsburgh. But anger is not a plan. We have got to start talking to each other again.
Beneath the veneer of her carefully chosen words, Clinton had already begun to frame the aftermath of the election as though victory was well within sight. Neither she nor her campaign seemed to foresee that American voters would resoundingly reject a plea to hold on to unity in favour of division, and choose fear over hope.
But they did precisely that on Tuesday, propelling Donald Trump to the nations highest office in a stunning affirmation of a wholly different definition of America and its identity.
As Clinton hopscotched across a small set of critical swing states in those final days, top aides sauntered to the back cabin of her campaign plane daily to brief the traveling press on the state of the race. An at-capacity group of 42 reporters huddled in the aisle or climbed on to their seats to record vital details on how the campaign was executing its turnout strategy, rooted in a massive ground game they claimed was slowly cultivating a lead too insurmountable for Trump to overcome.
Standing near a barricade separating the press from the crowd at one of Clintons final rallies on Monday, a senior campaign official predicted wins in Nevada, Michigan, Florida, New Hampshire and Pennsylvania, deeming only North Carolina a tossup. Only New Hampshire and Nevada would eventually be won.
The official even quietly entertained what a President-elect Clintons itinerary might look like after Tuesday, telling reporters she would need some downtime before probably flying to Washington on Thursday to meet with Barack Obama.
Timing of announcements for a potential transition team was unclear, but the aide was willing to indulge an exhausted press corps and speculateon when they might finally be safe taking a break from a grueling schedule that for some had spanned more than two years trailing Clinton.
Somewhat lost at that moment was the fact that the conversation was taking place in Michigan, where Clinton held a rally for 4,600 supporters at a basketball gymnasium in Grand Rapids.
The Clinton campaign remained bullish about its chances in Michigan, insisting that its decision to make a last-minute trip to the state, and dispatch President Obama there too, was merely the product of taking no votes for granted. But in retrospect, it presaged the Trump insurgency, both there Trump looks likely to have won the state for the Republicans for the first time since 1988 and across the US, and the attendant cracks in the so-called Democratic firewall.
But if the Clinton campaigns major weakness was in Michigan, the odds pointed to a similar trend in Wisconsin and Pennsylvania (Democratic since 1992) and the rest of the midwest too, where the campaign and most of the pollsters and pundits underestimated the large number of white voters who would flock to the Republican nominee. In its pursuit of more diverse states, Clintons team failed to shore up the Democrats long-held base in the so-called rust belt, despite recurring signs that Trump was appealing to working-class, less-educated white voters.
If there was any concern within the Clinton campaign in its final stretch, it was instead over the untold damage caused by the announcement by the FBI director, James Comey, at the end of October that his agency was reviewing a new batch of emails that might be pertinent to the previous investigation into her use of a private server while heading the Department of State.
The jolt was delivered 11 days before the election, as Clinton was flying between campaign events, placing another cloud of suspicion over a candidate polling persistently low in trustworthiness. Aides downplayed its significance on the polls, conceding only that the renewed focus on emails distracted Clinton from her message with precious time remaining to seal the deal with undecided voters.
Read more: https://www.theguardian.com/us-news/2016/nov/09/hillary-clinton-us-election-night-reaction