President gives soaring speech to thousands at ceremony on National Mallfor museum chronicling the relationship between the US and a people it once enslaved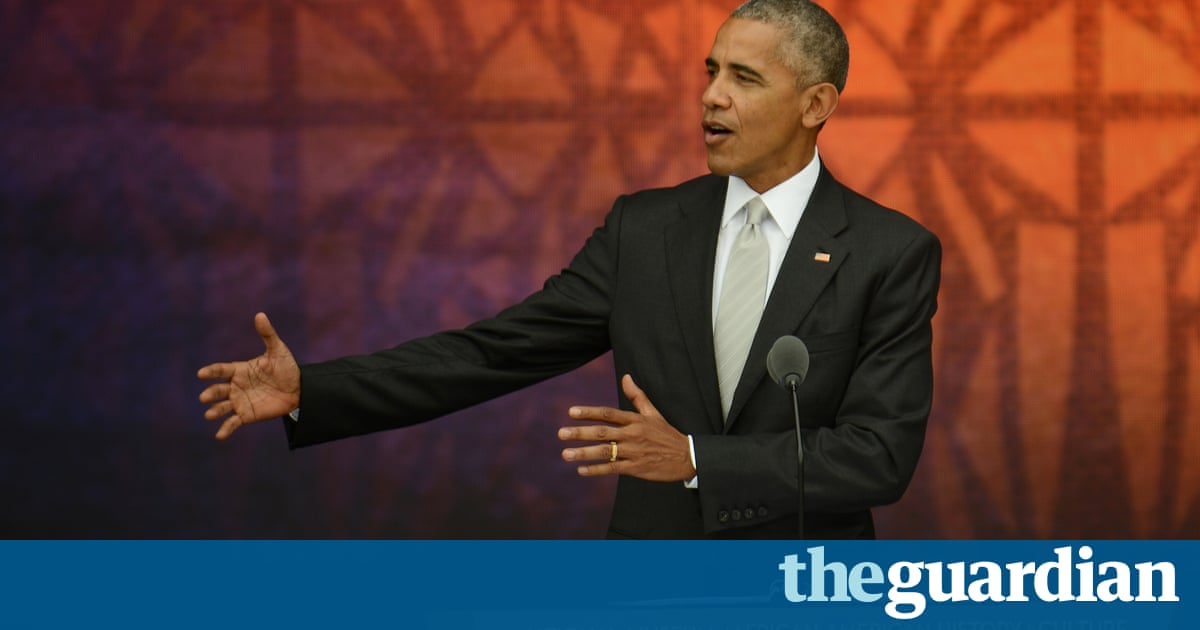 The opening of the National African American History and Culture Museum, part of the Smithsonian, was heralded on Saturday by the tolling of bells across the US capital, following soaring oratory from Barack Obama.
The opening was the culmination of a decades-long fight by legislators including the Georgia representative and civil rights campaigner John Lewis, in the name of African American history.
I too am American, said Obama, in a long and reflective speech that described the triumphs and tragedies that have helped define black identity in America. It is a glorious story, the one thats told here. It is complicated, and it is messy, and it is full of contradictions, as all great stories are.
Citing cities such as Ferguson, Missouri, and Charlotte, North Carolina, where black men have been shot and killed by police, leading to unrest, the president added: Its a story that perhaps needs to be told now more than ever.
Advocates of the museum have often described its exhibits as Obama did as not somehow separate to the American story, it is not the underside of the American story, it is central to our American story.
The museum occupies a space on the National Mall not far from the Jefferson Memorial and Washington Monument, sites dedicated to presidents who held slaves. Exhibits in the 400,000-sq-foot, eight-level museum are meant to highlight the complex relationship between black Americans and the US, a country which once held them in servitude.
The three-tiered, $540m building houses artifacts from the slavery era and the Middle Passage, the civil war, Jim Crow segregation, integration and the advent of Obama as the first black president. A second portion of exhibits, as described by the designers, focuses on the life of the citizen, stories of everyday Americans in the military and public life. Music, art and entertainment as pioneered by African Americans are also featured.
The building is meant to evoke a time in African American history when freed slaves moved from farming life to tradesmanship, architect David Adjaye has said. The lacy, outer tiers are a form of bronze alloy with a pattern of cuts that allow light to enter the museum.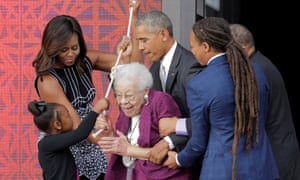 Read more: https://www.theguardian.com/culture/2016/sep/24/smithsonian-museum-african-american-history-culture-slavery-dc-music