Migrant boats, vulnerable teens, a teeming Faustian hell conscience pervades the Biennales big pavilions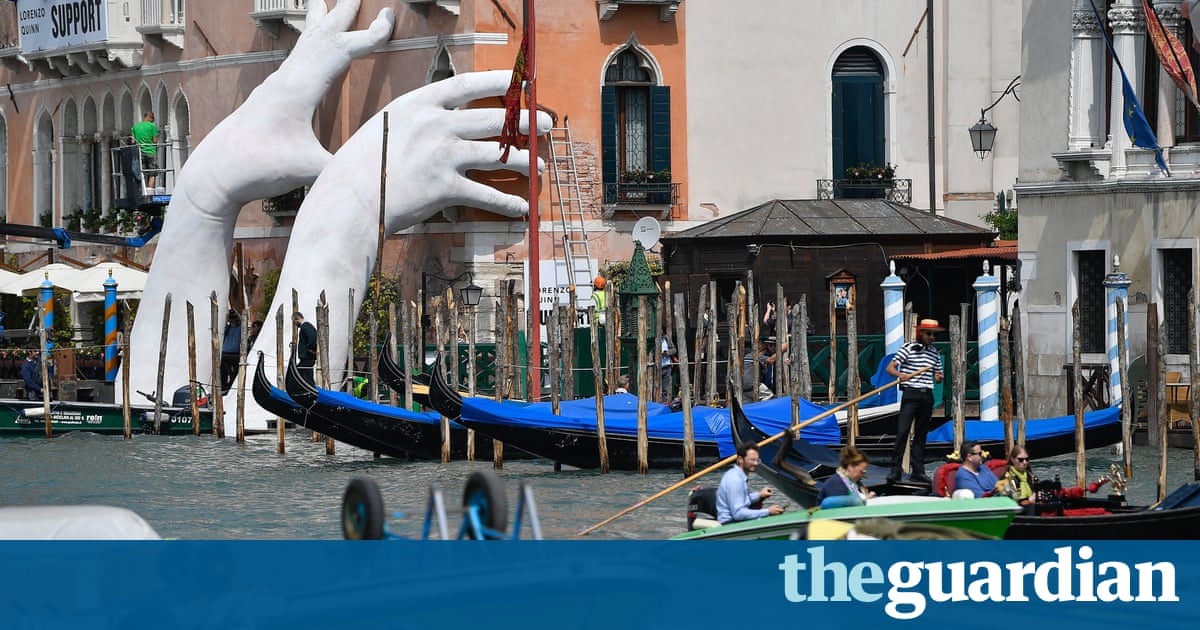 High in the Caucasian mountains, beneath a canopy of blazing blue sky, a tightrope walker inches between two peaks. Nothing prevents him from plummeting but his own skill and the curious prop of a picture. For he carries a painting from one peak to the other, placing it in a storage frame before returning for another, and even two at once for extra balance. The paintings are odd enough, from socialist realism to postwar kitsch, but it is the feat that compels in this astonishing film, a whole museum transported mid-air across a fragile rope art (not Venice) in peril. Or is it art that protects human life?
Taus Makhachevas Tightrope is set in Dagestan, one of the most violent of all Russian republics. Its frightening history is embodied in this film, and in these paintings too. Art can take us anywhere. The 57th Venice Biennale transports you round the globe as never before, from Inuit whaling boats to Brazilian rainforests, from Korean barber shops to Iraqi minefields and Antiguan beaches. I dont believe I will ever get a better sense of Finlands slightly shamefaced progressiveness than through Erkka Nissinens absurdist satire, featuring animatronic eggs; or nearer to Kosovo than the tragic bakelite phone that never rings in Sislej Xhafas Lost and Found booth, commemorating the disappeared.
But the balance between art and life is heavily weighted, at least in the Giardini, towards the latter. The big pavilions are all about conscience. Americas Mark Bradford black, gay, liberal, wondering how he could represent a government that no longer represented him has turned the rotunda of the White House, as the neoclassical US pavilion is nicknamed, into a barely convincing ruin. Far stronger is the colossal hull of claggy paint you have to duck beneath on entering; look closely and you see its a mass of immigration documents and ab-ex brushstrokes.
Poland has borrowed Americas Sharon Lockhart (these national distinctions have been over for years) to work with disturbed Warsaw teenagers. It may have helped them, but I could make little of their robotic film. Australias Tracey Moffatt alternates stills of shocked film stars with shots of boats sinking beneath the weight of desperate migrants. Olafur Eliasson, Biennale staple, goes further by actually employing Venices migrants in a workshop-cum-studio, where they appeared to be constructing green geodesic forms when I arrived. A lot of art is live this year, from the Chinese artist who chats while mending your clothes both with silken flourish to the man apparently sweeping up a rectangle of white light while releasing clouds of iridescent dust in Belgian artist Edith Dekyndts spellbinding installation. Most riveting of all, though, is the German pavilion.
Read more: https://www.theguardian.com/artanddesign/2017/may/14/57th-venice-biennale-2017-review-the-germans-steal-the-show