<figure class="media-landscape" has-caption full-width lead">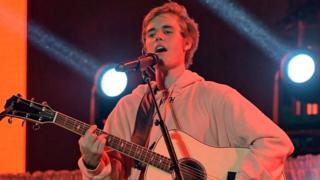 Image copyright Getty Images

Image caption Justin Bieber is said to be making an album of "Christian appropriate" songs
According to a report in The Sun, Justin Bieber is recording a religious concept album.
The pop star is said to be on the lookout for songs with a Christian message after reconnecting with his faith through the Pentecostal megachurch Hillsong Church.
"There are key themes of love and redemption in the tracks he has created so far," a source told the newspaper. "It will certainly ­surprise some fans."
The inference seems to be that pop songs with a religious theme are automatically awful or, at least, don't fit in the charts. The devil, as they say, has all the best tunes.
But there are plenty of examples of mainstream artists turning their faith into great pop songs – from Stormzy's Blinded By Your Grace ("Oh my God, what a God I serve") to Bob Marley's One Love ("Give thanks and praise to the Lord and I will feel all right").
<div id="bbccom_mpu_1_2_3″ class="bbccom_slot" mpu-ad" aria-hidden="true">