Women artists notoriously don't get
as much airtime
on country radio stations as their male counterparts. If you look at the current Billboard Country Airplay chart, every artist in the top 20 is a male singer or group of men ― with the sole exception of pop singer Bebe Rexha, who collaborated with Florida Georgia Line on "Meant to Be."
Women of color face even more challenges in country music. Their historical contributions to the genre have been erased and the contemporary mainstream scene is seriously lacking in diversity.
In recent years, many women in country music have lamented their underrepresentation on the radio and at live music events.
"You would think that we would be farther along in the thinking about women in country music," Carrie Underwood told Billboard in 2014. "There is certainly not a shortage of talented ladies out there that want so badly to get their fair shot in this business. But there seems to be only room for only a few."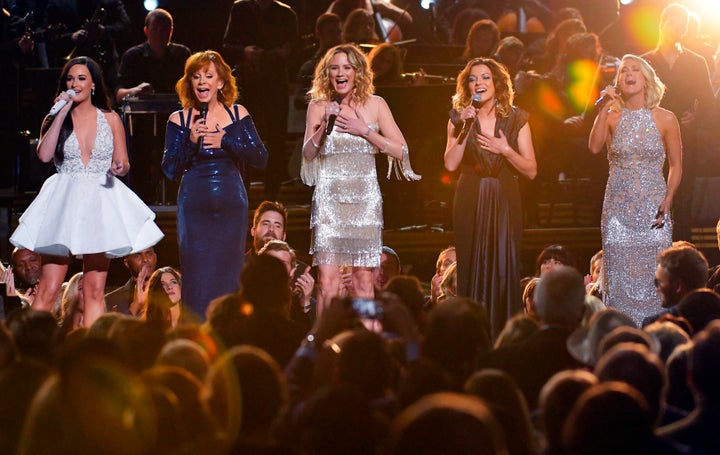 During a candid discussion with other female artists about sexism in country music in 2016, Margot Price said she's often the only woman on the bill at country shows and notices that many labels seem hesitant to take on female musicians. "Follow Your Arrow" singer Kacey Musgraves said women are held to different standards than men when it comes to radio play.
"If they can't get your song off the ground, it's immediately blamed on your personality, or the fact that you're female, or that you didn't make a radio station program director feel important," she noted.
In addition to speaking out, many female country artists over the years have recorded songs that tackle gender equality and women's issues. In honor of Women's History Month, we've put together a list of country songs that feature feminist messages.
"Girl in a Country Song" by Maddie & Tae
Maddie & Tae's 2014 debut single quickly became known as "the feminist country song." The Billboard Country Airplay chart-topper was a response to troubling trends in contemporary country music — namely the rampant objectification of women in songs and music videos from male artists.
Notable lyric: "Like all we're good for is looking good for you and your friends on the weekend, nothing more."
"Time's Up" by Song Suffragettes
In January 2018, 23 members of Song Suffragettes ― a Nashville songwriting coalition for women ― contributed vocals on "Time's Up," an empowering song recorded in support of the Time's Up Legal Defense Fund to combat sexual misconduct in the workplace. The group is vocal about women's issues, even creating the hashtag #LetTheGirlsPlay to bring attention to the shortage of airtime and live performance spots for female country singers.
Notable lyric:"They say good things come to those who wait. But we've waited long enough. Our time is here. Our time is now. Our time has come. And your time is up."
"Quarterback" by Kira Isabella
Released in March 2014, Kira Isabella's "Quarterback" is one of the first mainstream country songs to tackle the topic of rape culture. The lyrics tell the story of a high school girl in the marching band who survives sexual assault at the hands of the hometown hero football star. Even after degrading photos of her appear on Internet, the town sides with the eponymous quarterback.
Notable lyric:"Who you gonna blame, the star of the game or the no name girl in the freshman class?"
"Just Because I'm a Woman" by Dolly Parton
In 1968, Dolly Parton addressed the sexist double standards women face with the title track off her second solo album. "Just Because I'm A Woman" was an anti-slut-shaming anthem before the phrase took hold in mainstream media.
Notable lyric:"Yes I've made my mistakes, but listen and understand, my mistakes are no worse than yours just because I'm a woman."
"One More Girl" by The Wreckers
A country-fied cover of an early track from singer-songwriter Patty Griffin, the Wreckers' "One More Girl" (2006) is a frank song about the objectification of women. Michelle Branch and Jessica Harp sing about being reduced to sexual objects, as "one more girl on a stage, just one more ass that got stuffed in some jeans."
Notable lyric:"Did you ever take the time to think about who I might be? Where I've been, what I'm thinking, who I love, what I've seen? … I'm one more car out on the road that you might pass on your way home. I'm someone's sister or someone's wife or just some bitch who's probably got no life."
"What Part of No" by Lorrie Morgan
"What Part of No" speaks from the perspective of a woman at a bar who is fed up with the man persistently hitting on her. The 1992 song is an anthem of female agency in the face of harassment.
Notable lyric: "Sir if you don't mind, I'd rather be alone, from the moment I walked in tonight; you've been coming on. If I told you once, I told you twice, I'm just here to unwind. I'm not interested in romance, or what you have in mind. What part of no don't you understand?"
"The Pill" by Loretta Lynn
The meaning of Loretta Lynn's controversial 1975 song, "The Pill," is pretty straightforward. It's a celebration from the perspective of a woman who just gained freedom and control over her reproductive health through access to birth control.
Notable lyric:"I'm turning down your brooder house cause now I've got the pill. All these years I've stayed at home while you had all your fun and every year that's gone by, another baby's come. There's gonna be some changes made right here on nursery hill. You set this chicken your last time cause now I've got the pill."
"Follow Your Arrow" by Kacey Musgraves
Kacey Musgraves' 2013 song calls out the double standards women face ("you're damned if you do and you're damned if you don't") and empowers listeners to be true to themselves. The chorus is also explicitly non-heteronormative with its "kiss lots of boys or kiss lots of girls if that's something you're into" line.
Notable lyric: "If you save yourself for marriage, you're a bore. If you don't save yourself for marriage, you're a whore … able person. If you won't have a drink, then you're a prude. But they'll call you a drunk as soon as you down the first one."
"Harper Valley P.T.A." by Jeannie C. Riley
This narrative song, which has ben covered by Martina McBride, tells the story of a widow and mom who stands up for herself after being slut-shamed for the way she dresses and raises her teenage daughter. In a PTA meeting, she calls out the parents who shamed her by highlighting their various examples of misconduct and utter hypocrisy.
Notable lyric:"Mrs. Johnson, you're wearing your dresses way too high. It's reported you've been drinkin' and runnin' round with men and goin' wild. And we don't believe you oughta be a bringin' up your little girl this way."
"Guys Do It All The Time" by Mindy McCready
Mindy McCready's 1996 song addresses the double standards for men and women when it comes to bad behavior. The narrator of the song complains about being chastised for staying out late and getting drunk with her girlfriends, while many men do the same thing all the time without shame.
Notable lyric:"Guys do it all the time. And you expect us to understand. When the shoe's on the other foot. You know that's when it hits the fan."
"He Thinks He'll Keep Her" by Mary Chapin Carpenter
Mary Chapin Carpenter's "He Thinks He'll Keep Her" tells the story of a woman who gains the strength to walk away from an unhappy marriage after 15 years of dutiful work as a housewife and mother ― juxtaposed against the perspective of a husband who "thinks he'll keep" his wife because she does everything right. After leaving her husband (and her 15-year job with "not one raise in pay"), the wife can only find a minimum-wage job in the working world. The 1993 song was reportedly inspired by the tagline of 1970s ads for Geritol.
Notable lyric:"And every Christmas card showed a perfect family. Everything runs right on time. Years of practice and design. Spit and polish till it shines, he thinks he'll keep her."
"Don't Put Her Down (You Helped Put Her There)" by Hazel Dickens
This song by bluegrass singer-songwriter Hazel Dickens is another one that calls for men to understand the way their mistreatment of women and complicity in oppression creates certain female archetypes.
Notable lyric:"You abuse her, accuse her, turn her round and use her. Then forsake her any time it suits you. There's more to her than powder and paint, than her peroxided bleached-out hair. And if she acts that way it's 'cause you've had your day. Don't put her down, you helped put her there."
"Better Than You Left Me" by Mickey Guyton
Mickey Guyton's 2015 debut single, "Better Than You Left Me," is about her growth and renewed strength as a woman after a breakup. It also propelled Guyton, one of the relatively small number of black women country artists, to the Billboard Country Airplay Top 40.
Notable lyric:"I'm better than I was when you walked out that door. I'm stronger than the woman, the one that you knew back then. So don't you think I'll take you back like every time before."
"Not Ready To Make Nice" by The Dixie Chicks
After being shunned by the country music industry for their lead singer's criticism of President George W. Bush and the Iraq War, The Dixie Chicks fought back with "Not Ready to Make Nice." The 2006 anthem of resistance was in many ways ahead of its time, forging the path for artists and celebrities to use their platforms to speak out on issues that matter to them.
Notable lyric:"And how in the world can the words that I said send somebody so over the edge that they'd write me a letter saying that I better 'Shut up and sing' or my life will be over! … I'm not ready to make nice. I'm not ready to back down. I'm still mad as hell and I don't have time to go round and round and round."
"Fight Like a Girl" by Kalie Shorr
Kalie Shorr's "Fight Like a Girl" was a response to #SaladGate ― a 2015 incident when a country radio consultant said women artists shouldn't get a lot of airplay because they're the "tomatoes of our salad" while men are "the lettuce." Shorr's song is about female empowerment and grit in the face of adversity.
Notable lyric:"I'm perfume sweet and whiskey strong. I damn sure ain't no underdog. I might fall down but I get back up. I shine brightest when the going's tough. You say I can't ― well, darling, watch me. You can't stop me 'cause I fight like a girl."
"A Broken Wing" by Martina McBride
Martina McBride's "A Broken Wing" (1997) tells the story of a woman escaping an emotionally abusive relationship and finding her strength to "fly … with a broken wing."
Notable lyric:"With a broken wing. She carries her dreams. Man you oughta see her fly."
"I'm a Survivor" by Reba McEntire
The theme song to her show "Reba," McEntire's "I'm a Survivor" celebrates women's might. The 2001 song focuses on a premature baby girl and a hardworking single mom and their roles as "fighters" and "survivors."
Notable lyric:"A single mom who works two jobs. Who loves her kids and never stops. With gentle hands and a heart of a fighter. I'm a survivor."
<a class="app-download-interstitial__download-app" bn-app-download-app-store yr-app-download-app-store" href="https://wdo-m.tlnk.io/serve?action=click&publisher_id=353714&site_id=125341&my_placement=b_page&site_id_android=125343″>Download
Read more: http://www.huffingtonpost.com/entry/17-country-songs-with-feminist-messages_us_59f794a1e4b0c0c8e67c2e2c