Everything you need for a great fitness program is actually in the palm of your hand. Smartphone apps can help inspire your routine, track your progress and keep your nutrition sorted. Need to wind down after a tough bootcamp class? There's an app for that too.
Here's a list of HuffPost editor recommended apps, Instagram-based programs and more. Put those little machines to good use!
For when you want to track your progress: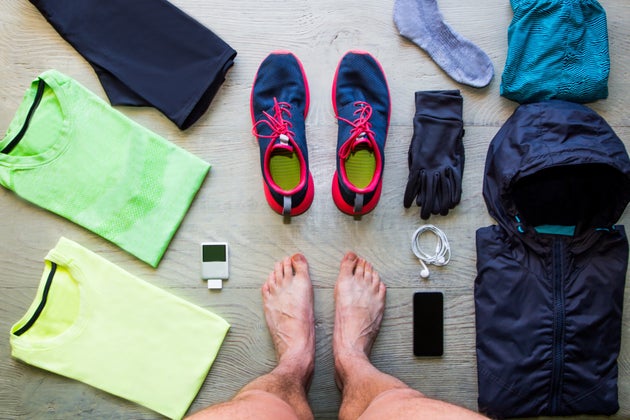 "This has the best UI [user interface] of all the running apps I've used in the past. One app to keep track of all your runs and records. It even syncs with your device's music library for workout playlists." — Justin Block, associate sports editor
"I really like MapMyWalk. I ended up taking a ton of walks when I first had my son because I couldn't work out yet and just needed to get out of the house. It really helped add a little structure and data to something that I would have been doing anyways and often pushed me to go further, walk longer." — Kerstin Shamberg, editorial partnerships director
I love the MapMyRun app! It's extremely reliable and motivating to see how I've been progressing. — Kira Brekke, video editor
"I really like MapMyRide and MapMyRun. They are both heavily GPS based, but keep track of everything, speed, splits, elevation. And the app has internal (sponsor based) challenges that let you win real prizes. They have great social aspects too." — Troy Dunham, art director
"I really, really hate running. But I love charts, and I love seeing when I'm making progress, and this maps it all out for you — during your workout you can see your pace and how far you've gone, and after your run it keeps track of ALL your runs, so you can see your improvement (or lack thereof, in my case). My favorite part is after the run, a celebrity athlete congratulates you on finishing (and I'm missing the years when Tim Tebow was in the rotation, because that made me laugh after every run)." — Kristen Aiken, executive editor, food and style
For when you need a reminder to get moving: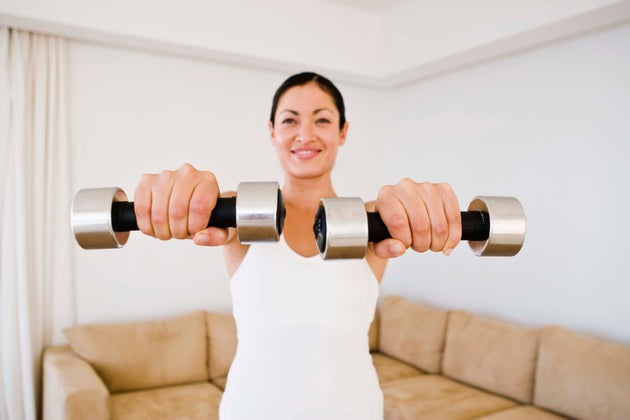 "It's a great system to slowly get running more over the course of a couple months, starting off with super easy runs and getting harder as you go. I love Seargent Block who is one of the voices on it… you feel like you're in the Army! He's no joke!" — Megan Robertson, director of video
If you're a desk jockey, Fit Bolt will remind you to get up, stretch, do a few jumping jacks, drink more water or just breathe. I think everyone should use it. — Jade Walker, overnight editor
For when you want to use your wearable: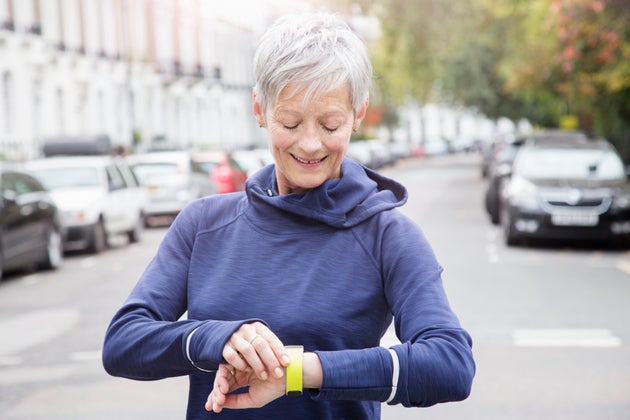 "I use the 'Workout' app on my Apple watch, because it lets me select the type of workout, tracks my heart rate and distance I travel, and syncs with my other apps, like Health and Virgin Pulse." — Tyler Kingkade, senior editor/reporter
"I love my Jawbone bracelet and the UP app associated with it. Because I set goals for myself, I push myself to make them and I can see my progress over time. It's what keeps me in line with walking, workouts, and sleep." — Candy Bigwood, mobile art director
"I use the Jawbone wearable and their app's 'smart coach' gives informative updates and tips about your sleep+fitness." — Justin Block
For when you want to sync up diet with exercise: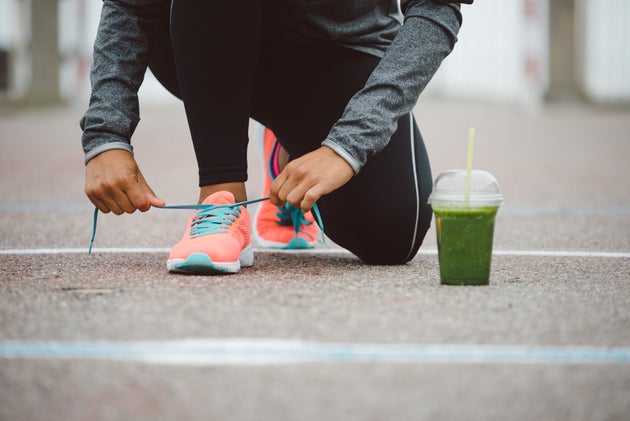 Dirima via Getty Images
<
figcaption class="image__caption" js-image-caption"> Studies show that nutrition accounts for 75 percent of weight loss.
"My favorite one is MyFitnessPal, which integrates with FitBit and lets you track food and calories throughout the day. It's really a great way to track activity and how many calories you're consuming, and hit weight loss goals." — Megan Robertson
"It's an awesome resource for counting calories, and you can use it to lose/sustain weight with or without exercise. You can put in your target weight and it'll tell you how many calories you can eat each day (within a healthy minimum, of course) to lose those pounds. Really useful for someone like me who's not into 'superfood' and just wants to keep their weight in check." — Andy Campbell, reporter
"I'd say I'm (sadly) a recreational fitness app user at best. I open them a few times a month when I'm either feeling like a) a boss for completing a killer workout or b) the laziest person in the world. However, I like being able to occasionally check My Fitness Pal when it comes to nutrition because I've found they have a fairly large database for restaurants and meals and the measurements are pretty on point. It's one of the only apps I've used rather consistently in the past few months." — Lindsay Holmes, deputy health editor
"I lost 12 pounds for my wedding using it!" — Sara Wald, partner studio
For when you need to take things down a notch: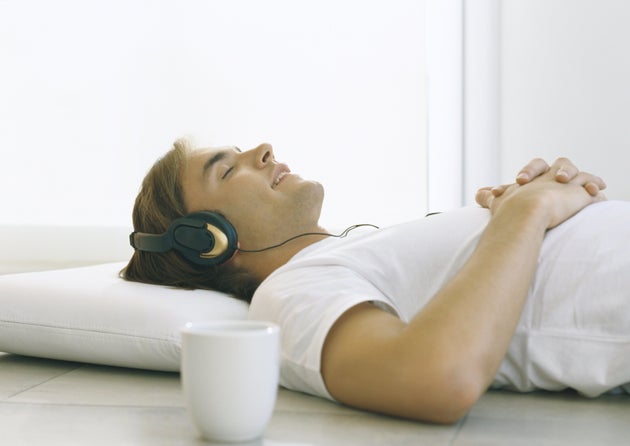 "I put it on as background noise when I'm doing yoga or meditating, and they also have short guided meditations as well!" — Mallory Moyer, partner studio program manager
For when you need a little inspiration:
I hate to exercise. Hate it. But this awesome story-telling app about a zombie apocalypse gets me moving. — Jade Walker
"It has allowed me to diversify my workouts and try new classes I wouldn't have otherwise, if I had to pay a separate fee. You put in your location and you can find really great classes within .5 miles or 3 miles or however long you're willing to travel. Plus, once you've started using it, it will start recommending classes for you based on the ones you've taken." — Ashley Reich, executive weddings and divorce editor
Instagram is great for fitness motivation/ new workout ideas because there's so many fitness gurus out there on Instagram, constantly posting videos of their workouts. I always go to Instagram when it's time for me to switch up my workout. It's all right there in front of you! — Stephanie Petchers, associate producer for HuffPost Rise
In particular, people loved @Kayla_Itsines:
"On Instagram, I love Kayla Itsines, the Australian fitness superstar. I love the before and after photos of women who have gotten fit on her program and how encouraging and body positive she is. Even if you're not on her program, it's amazing to see what people can achieve in a few weeks." — Megan Robertson
"She has a stellar Instagram presence with really positive messaging and great ideas on body image. I do her guides!" — Eliza Sankar-Gorton, audience development
We want to help you feel stronger, happier and more empowered. Sign up for our newsletter and join our 30-Day Move More, Feel Better challenge. We'll deliver tips, challenges and advice to your inbox every day.
Use our challenge calendar below to stay on track — it can even sync to your own schedule and send reminders to your phone:
Read more: http://www.huffingtonpost.com/2016/05/04/best-fitness-apps_n_9853600.html